T20 Cricket World Cup: T20 Super 8 Schedule
By Jayita, Gaea News Network
Thursday, May 6, 2010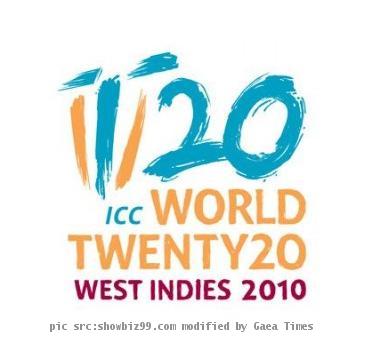 BARBADOS, WEST INDIES (GaeaTimes.com) — As you know, the T20 World Cup is being played in West Indies. After the pool stage, its time for avid cricket fans to get prepared for the excitement of Super Eights. Two minnows and debutants Ireland and Afghanistan along with Bangladesh and Zimbabwe are eliminated from the T20 world cup. So, only the big teams will play in the Super 8 stage.
In Super 8, the eight teams are divided into two groups. Group E composed of Pakistan, New Zealand, South Africa and England, while Australia, Sri Lanka, India and West Indies form Group F.
The mini format of cricket is widely popular among the cricket fanatics. They are eagerly looking for T20 Super 8 Schedule so that they can arrange their daily schedule and do not miss the crucial matches of Super 8. Here is the schedule of T20 Super Eight. Check out.
ICC World Twenty20 Super 8's 2010
Thu May 6

13:30 GMT | 09:30 local | 19:00 IST

13th Match Group E Pakistan v England

Oval, Bridgetown, Barbados

Thu May 6

17:30 GMT | 13:30 local | 23:00 IST

14th Match Group E South Africa v New Zealand

Kensington Oval, Bridgetown, Barbados

Fri May 7

13:30 GMT | 09:30 local | 19:00 IST

15th Match Group F India v Australia

Kensington Oval, Bridgetown, Barbados

Fri May 7

17:30 GMT | 13:30 local | 23:00 IST

16th Match Group F West Indies v Sri Lanka

Kensington Oval, Bridgetown, Barbados

Sat May 8

13:30 GMT | 09:30 local | 19:00 IST

17th Match Group E New Zealand v Pakistan

Kensington Oval, Bridgetown, Barbados

Sat May 8

17:30 GMT | 13:30 local | 23:00 IST

18th Match Group E England v TBC

Kensington Oval, Bridgetown, Barbados

Sun May 9

13:30 GMT | 09:30 local | 19:00 IST

19th Match Group F West Indies v India

Kensington Oval, Bridgetown, Barbados

Sun May 9

17:30 GMT | 13:30 local | 23:00 IST

20th Match Group F Sri Lanka v Australia

Kensington Oval, Bridgetown, Barbados

Mon May 10

13:30 GMT | 09:30 local | 19:00 IST

21st Match Group E Pakistan v TBC
Mon May 10

17:30 GMT | 13:30 local | 23:00 IST

22nd Match Group E England v New Zealand

Beausejour Stadium, Gros Islet, St Lucia

Tue May 11

17:00 GMT | 13:00 local | 22:30 IST

23rd Match Group F India v Sri Lanka

Beausejour Stadium, Gros Islet, St Lucia

Tue May 11 D/N

19:35 local | 08:35 GMT | 14:05 IST

24th Match Group F West Indies v Australia

Beausejour Stadium, Gros Islet, St Lucia