Closing Ceremony Of FIFA 2010 A Big Hit
By Sayanee, Gaea News Network
Monday, July 12, 2010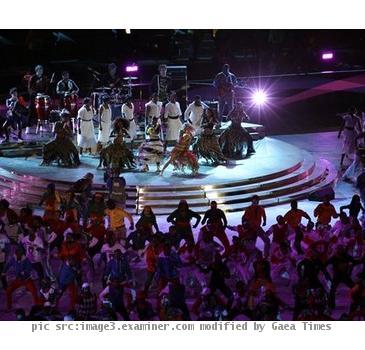 more images
JOHANNESBURG, SOUTH AFRICA (GaeaTimes.com)- A month has passed since the World Cup 2010 commenced in South Africa this year. Considering it is such a grand affair, the tournament saw a fitting end with not only one of the most exciting matches between Spain and the Netherlands, but also some equally exciting performances by Shakira and the giant human vuvuzela chain during the closing ceremony of FIFA 2010 yesterday night.
Giving Shakira company on the Soccer City Stadium stage was South Africa's most popular leader Nelson Mandela. While the organizers of the closing ceremony of FIFA 2010 were not even sure about the fact as to whether Nelson Mandela would have been able to make it to the stadium on Sunday night, the leader made it to the grounds in a golf car limousine.
Shakira and her "Waka Waka" number was a hit with the spectators yet again, the Colombian pop princess had danced to the song in the opening ceremony as well. Behind her was the constant presence of a giant vuvuzela, a long human chain carrying a big vuvuzela, the instrument being a staple of every athletic event in South Africa. The message that was meant to be imparted by the organizers and the performers of the closing ceremony of FIFA 2010 was that of universal brotherhood.
The FIFA World Cup thus came to an end this year with the hope of building an unbreakable bond that will ultimately lead to the unification of the whole world. Since the release of "Waka Waka" before the beginning of the games in South Africa, Shakira's song has been a best seller and the closing ceremony of FIFA 2010 only helped to make it more so.