Eberle scores 2 goals for Oilers in NHL debut
Oilers loan Sheldon Souray to Hershey of AHL
Iginla scores twice as Flames beat Oilers 5-1
Khabibulin leads Oilers in 8-2 win over Canucks
Lightning-Oilers Sums
| Tampa Bay | 1 0 1—2 |
| --- | --- |
| Edmonton | 2 1 2—5 |
Castroneves stretches fuel to win Indy 300
Castroneves to meet with IndyCar officials
Castroneves sorry for Edmonton tirade
Helio Castroneves' passion is part of what has made him one of the best IndyCar drivers of a generation.
Oilers sign No. 1 draft pick Hall
EDMONTON, Alberta — The Edmonton Oilers have signed top overall draft pick Taylor Hall to a three-year, entry-level contract.
Oilers trade O'Sullivan to Coyotes for Vandermeer
Oilers take Hall No. 1 in NHL draft; Seguin to Bs
Edmonton chooses Taylor Hall to begin NHL draft
Suspense surrounds No. 1 pick in NHL draft
Quinn out as Oilers coach, Renney promoted
Bruins, Oilers, sizing up top 2 draft picks
Blackhawks want to clinch in Philly
PHILADELPHIA — Scrubbed and polished, the Stanley Cup will be in the arena for Game 6. The Philadelphia Flyers hope it will stay in its case.
Oilers win lottery for 1st pick in NHL draft
Selanne, Ducks rout Oilers 7-2 in season finale
NHL-worst Oilers stun Kings for 3rd straight win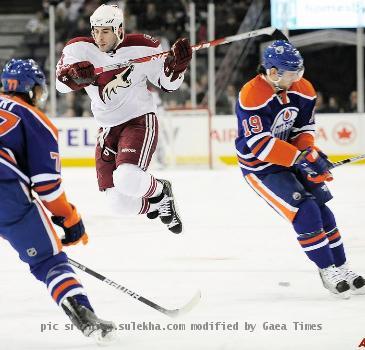 Oilers handle Wild 4-1
EDMONTON, Alberta — Dustin Penner and Ethan Moreau each scored two goals and the Edmonton Oilers snapped a five-game losing skid, defeating the Minnesota Wild 4-1 Monday.
Coyotes top Oilers 3-2 in shootout
GLENDALE, Ariz. — Matthew Lombardi scored in the eighth round of the shootout, the lone goal in the lengthy tiebreaker, and the Phoenix Coyotes beat the Edmonton Oilers 3-2 on Saturday night.
Benn sends Stars to 6-3 win over Oilers
DALLAS — Rookie Jamie Benn scored twice, including the go-ahead goal early in the third period, and the Dallas Stars kept their faint playoff hopes alive with a 6-3 victory over the Edmonton Oilers on Friday night.
Red Wings beat Oilers 5-4 after wasting 4-0 lead
Tkachuk snaps 3rd-period tie with birthday goal
Perry helps Ducks beat Oilers
EDMONTON, Alberta — Corey Perry scored two power-play goals in a 1:35 span in the third period, and Curtis McElhinney made 34 saves in the Anaheim Ducks' 3-2 victory over the Edmonton Oilers on Friday night.
Oilers slip past Canucks 3-2
EDMONTON, Alberta — Tom Gilbert had a goal and an assist and the Edmonton Oilers earned their third consecutive victory with a 3-2 win over the Vancouver Canucks on Tuesday.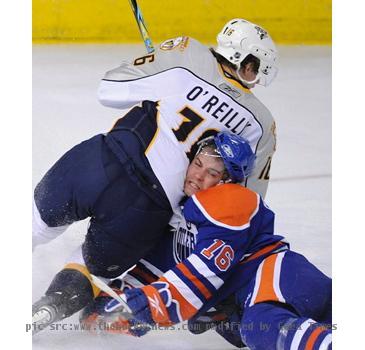 Brule nets shootout winner as Oilers top Red Wings
Wild extend home win streak over Oilers to 13
Blue Jackets find offense against Oilers
COLUMBUS, Ohio — Antoine Vermette had two assists and scored the clinching empty-netter Monday night to lead the Columbus Blue Jackets past Edmonton 5-3, adding to the Oilers' road woes.
Oilers-Maple Leafs Sums
| Edmonton | 0 2 2—4 |
| --- | --- |
| Toronto | 2 3 1—6 |
Maple Leafs beat Oilers for third straight win
Kostitsyn gives Canadiens SO win over Oilers
Oilers-Canadiens Sums
| Edmonton | 2 0 2 0—4 |
| --- | --- |
| Montreal | 2 1 1 0—5 |