Tearful Bartoli quits Bali tennis final with injury
By DPA, IANS
Sunday, November 8, 2009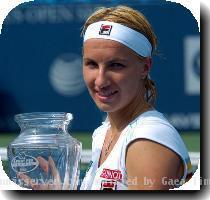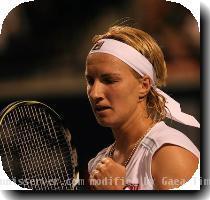 BALI - Tearful top seed Marion Bartoli was forced to quit the final of the Commonwealth Bank Tournament of Champions Sunday with a thigh injury, giving French compatriot Aravane Rezai her third title of the season.
Number 12 Bartoli was in line for a number 10 finish, had she claimed the trophy. But that dream ended for the 22-year-old as she had to quit in pain, trailing 7-5, after a double-fault which ended the 62-minute encounter at this tropical resort.
"I'm crying right now, but I'm so happy to be here," said Bartoli, who was runner-up at Bali three years ago against Svetlana Kuznetsova when it was part of the regular WTA Tour.
"My leg was hurting. I tried my best to carry on, but it was too much pain. I'm sorry I wasn't able to finish today. Aravane had a wonderful week and played some great tennis," she said.
Bartoli missed out on her third title of the season.
The victory gave 44th-ranked Rezai a sweep this week at the year-end event after coming to Bali following consecutive first-round losses in Beijing, Linz and Luxembourg.
The 22-year-old turned her luck around with two group wins and a semi-final defeat of Spain's Maria Jose Martinez Sanchez.
"It's a great feeling to be here in the final, I'm very sorry for Marion that this happened," said Rezai, winner of a career-best $200,000 and now over the million-dollar mark in prize money.
"I'd prefer to win in a different way, but it's tennis, a lot of different things happen. I was really motivated to win here."
Rezai stands 2-2 in career finals after finishing runner-up at 2007 Istanbul and 2008 Auckland. She is projected to reach the Top 30.
Rezai claimed the second trophy of her career after Strasbourg in May.