Top players auction rackets in continuing fundraising for Haiti earthquake victims
By Tanalee Smith, AP
Thursday, January 28, 2010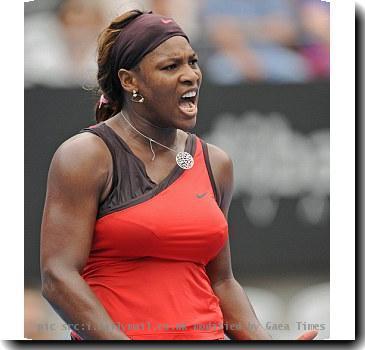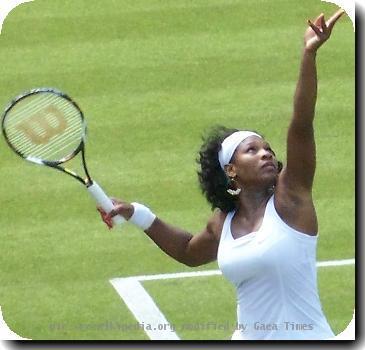 Bidder offers $13,300 for Federer's racket
MELBOURNE, Australia — Roger Federer and other top players have continued their fundraising efforts for Haiti with an auction of autographed rackets used in this year's Australian Open.
Two days after the bidding opened, Federer's racket was easily the most sought after, with the latest of 87 bids offering $13,300. The next most-wanted racket is Rafael Nadal's, with a current bid of $4,150.
Novak Djokovic, Kim Clijsters and Jelena Dokic have also donated their rackets.
The eBay auction, which opened Tuesday and closes after the men's final on Sunday, follows "Hit for Haiti" — a charity match initiated by Federer on the eve of the tournament.
That mixed doubles match — where the public paid discounted prices and the players wore microphones — raised more than $185,000.
The Jan. 12 earthquake in Haiti killed an estimated 200,000 people.
COOL CILIC: Marin Cilic says staying cool on court helps him play the big points.
The 21-year-old Croatian lost 3-6, 6-4, 6-4, 6-2 to Andy Murray in the semifinals Thursday. He played three five-setters leading up to that showdown, and has maintained his composure throughout.
"I'm like that naturally. I'm always pretty calm," Cilic said. "When you're on the court, you got to be able to think what you got to do, not to be angry about yourself. That's going to always put you in a disadvantage."
The 14th-seeded Cilic credits his focus and calm for his strong performance in the first set against No. 5 Murray, who will play either Roger Federer or Jo-Wilfried Tsonga in the final on Sunday.
"I was doing that very good," Cilic said. "That gave me, of course, some important points when I needed them."
INTO THE FINALS: Brothers Bob and Mike Bryan, the top-ranked men's doubles pair, say they are looking for revenge against old rivals in their final match at the Australian Open.
The Americans, defending champions at Melbourne Park, beat Germany's Michael Kohlmann and Jarkko Nieminen of Finland 6-1, 6-4 in what they called their "first easy match" of the tournament.
They will face Canadian Daniel Nestor and Serbian Nenad Zimonjic in the finals. That team holds an 8-3 lead in matches against the Bryan brothers, and all of those meetings came in finals.
"We obviously know their game really well, and we feel like we can change some stuff up from the past matches," said Mike Bryan. "We're looking for some nice revenge here. It's a pretty intense rivalry."
Nestor and Zimonjic held the No. 1 ranking at the end of 2008. Last year, the Bryans took back the crown.
"In 2008 it came down to the last match of the year," Mike Bryan said. "They broke our heart, and last year we kind of broke their heart."
Another team of American siblings has advanced to a doubles final. Venus and Serena Williams defeated American Lisa Raymond and Australian Rennae Stubbs 6-3, 7-6 (6) on Thursday and will play Cara Black and Liezel Huber in the final Friday.
TENNIS NOW, FAMILY LATER: Justine Henin is sweeping through her comeback to tennis and is happy to be doing it on her own, unlike fellow Belgian Kim Clijsters who is on the tour again after taking time off for marriage and a baby.
"I'm not quite sure I could do it, having a child and then coming back on the tour," said Henin, who advanced Thursday to the finals of the Australian Open with a 6-1, 6-0 win over China's Zheng Jie.
Henin said she had a lot of respect for Clijsters, who won the U.S. Open in her return to tennis last year but was upset in the third round of the Australian Open.
"I think it's brave to do it, to travel with a child, to deal with being a mother and a tennis player," Henin said. "I think it's not easy, so it's great what she's doing."
Henin retired at No. 1 in May 2008 after battling injuries and going through a divorce. She has said she was inspired by Clijsters return to tennis, and the Australian Open is her second tournament in her comeback.
"It's my life being on the tour now," said the seven-time Grand Slam champion. "I hope one day to have my family, but it's going to be another step in my life."
Filed under:
Tennis
Tags:
2010 Australian Open Tennis Championships
,
Australia
,
Australia And Oceania
,
Australian open
,
Australian Open Tennis Championships
,
Caribbean
,
Events
,
Haiti
,
Latin America And Caribbean
,
Melbourne
,
Men's Tennis
,
Rafael nadal
,
Roger federer
,
Serena williams
,
Sports Business
,
Sports Transactions
,
Women's Sports
,
Women's Tennis