Niklas Backstrom makes 29 saves, Wild beat Flames 4-0
By AP
Thursday, March 4, 2010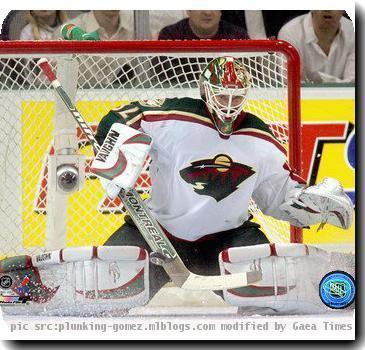 Backstrom, Wild blank Flames
CALGARY, Alberta — Niklas Backstrom made 29 saves for his second shutout of the season and Mikko Koivu and Andrew Brunette each had a goal and an assist in the Minnesota Wild's 4-0 victory over the Calgary Flames on Wednesday night.
Backstrom, mostly a spectator for Finland in Vancouver, got the better of Olympic teammate and Flames goalie Miikka Kiprusoff.
Kyle Brodziak and Martin Havlat also scored.
After Brodziak opened the scoring in the first period, the Wild stretched their lead to on a pair dazzling second-period rushes.
Brunette finished off a pretty tic-tac-toe passing play started by Koivu and Finnish Olympic teammate Anti Miettinen at 10:12 for his 18th of the season.
Less than 4 minutes later, Koivu dashed down the wing and wired a rising slap shot inside the far post past Kiprusoff.
The Wild moved within three points of Calgary and four points of Detroit, which holds the eighth and final playoff spot in the Western Conference.
Calgary is ninth, one point up on Dallas.
NOTES: The game was penalty free until the third period, when Wild defenseman Greg Zanon was sent off for playing with a broken stick. … Calgary is 3-8-1 in its last 12 games at the Saddledome. … The Flames have been either shutout or held to one goal in nine of their last 17 games.
(This version CORRECTS Wild 4, Flames 0. SUBS lede to correct to second shutout of season sted fifth.)
Filed under:
Featured Article
,
Hockey
Tags:
Alberta
,
British Columbia
,
Calgary
,
Canada
,
Europe
,
Finland
,
Men's Hockey
,
Minnesota
,
North America
,
Professional Hockey
,
United States
,
Vancouver
,
Western Europe