Paraguay, Chile and Uruguay join giants in flying flag for South America at World Cup
By Pablo Elias Giussani, AP
Tuesday, June 22, 2010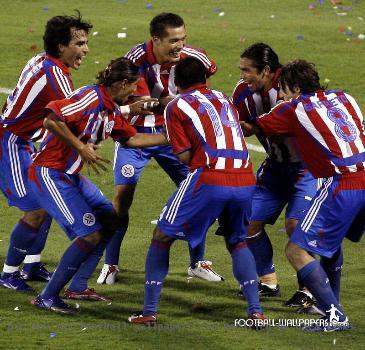 Good start for South America at World Cup
JOHANNESBURG — Normally Brazil and Argentina fly the flag for South America at the World Cup. This year, their smaller neighbors are joining in.
Between them, Brazil and Argentina have won the competition seven times — and few would bet against them adding to the tally this year after perfect starts.
But Paraguay, Uruguay and Chile also are in commanding positions in their groups, and confident of advancing to the second round. Overall, South American teams have eight wins and two draws.
Former Chilean striker Ivan Zamorano says it's no coincidence — and a result of bold tactics.
"Latin American football is getting more and more prestigious. We play to attack and to win," the former Real Madrid and Inter Milan star said. "Teams with a footballing history, like Brazil and Argentina, are always protagonists. But right now the Uruguayans, Paraguayans and Chileans are all showing clear signs they're more alive than ever."
Paraguay leads Group F having drawn 1-1 with defending champion Italy and beaten Slovakia 2-0. A win over New Zealand in its final group game would see Paraguay top the group, likely setting up a second-round match with Japan or Denmark and avoiding the Netherlands.
Uruguay, which only made it to South Africa through a playoff with Costa Rica, kicked off with a 0-0 draw against France. But a 3-0 win over the host nation means the Uruguayans are tied for first place in Group A with Mexico, and they own a better goal differential.
So a draw against Mexico would be enough for Uruguay to finish on top and avoid neighbor and fierce rival Argentina — if, as expected — Diego Maradona's team wins its group. Uruguay would fancy its chances against either Greece or South Korea in the second round.
Chile began the World Cup with a 1-0 win over Honduras. Then it solved the Swiss defense that had set a record for consecutive minutes without allowing a goal, and that 1-0 victory pushed Chile to the verge of advancing.
"Just good teams with good players and good mentalities," U.S. midfielder Landon Donovan said of the South Americans. "Obviously Brazil and Argentina speak for themselves. I think we've all been impressed by the way Chile and Paraguay have gone out and really pushed games and pressed their opponents.
"They're just very good teams all over the field and there's a very real possibility that they'll be in the next round. Likely."
Paraguay coach Gerardo Martino said Monday that all five South American teams arrived in South Africa "in good condition … and with big expectations."
So far in South Africa, South American teams have dominated, European teams generally have been disappointing, while Asian sides have been mediocre and the Africans have struggled on home soil.
"South American football has grown a lot," says Brazilian striker Julio Baptista. "Now we're far tougher opponents. It wouldn't surprise me at all if two or three South American teams appear in the final stages of the World Cup."
Still, for all the improvement of their neighbors, Brazil and Argentina remain the oddsmakers' favorite to make it to the final, with Spain and the Netherlands considered their strongest rivals.
Argentina has put aside an inconsistent qualifying performance to shine in South Africa, with impressive wins over Nigeria and, in particular, South Korea.
And in Lionel Messi, Maradona's team arguably has the most outstanding player of the tournament so far.
Brazil struggled to beat North Korea 2-1 in its opener, but looked ominously strong in a resounding 3-1 win over Ivory Coast on Monday — a result that clinched a place in the second round.
Filed under:
Featured Article
,
Soccer
Tags:
2010 Fifa World Cup
,
Africa
,
Argentina
,
Chile
,
Events
,
International Soccer
,
Johannesburg
,
Latin America And Caribbean
,
Paraguay
,
South Africa
,
South America
,
Southern Africa
,
Uruguay
,
World Cup