With a nod to croquet, K.J. Choi makes radical change with putter heading into British Open
By Paul Newberry, AP
Tuesday, July 13, 2010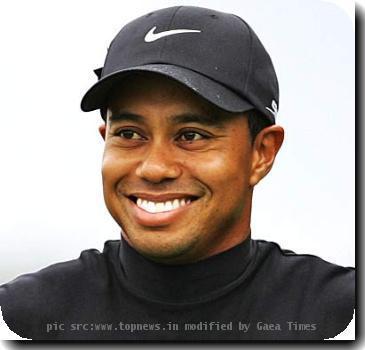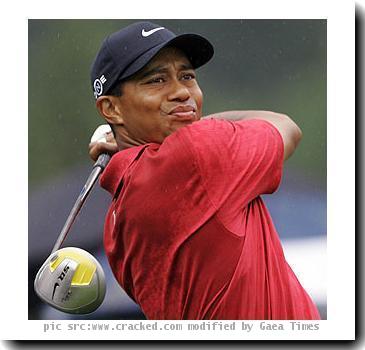 Croquet, anyone? K.J. Choi shakes up putting green
ST. ANDREWS, Scotland — K.J. Choi has been getting more attention than anyone on the putting green.
He starts out like everyone else, lining up alongside the ball for what appears to be a normal swing. Then, he turns to face the hole, jutting out his right leg to the left of the ball, and spreads his hands far apart on a strange-looking club.
What comes next is something resembling a croquet swing. It's all completely legal. And it just might set off a new craze if it helps Choi contend at the British Open.
"When I started out, I was not 100 percent comfortable with it," the South Korean said through a translator. "But I believe in the theory and I believe in the principle behind it. I've worked hard and I've practiced hard. I'm convinced this is the right way to go. I'm not looking back."
Choi's radical change — even more noteworthy since he's doing it at the British Open with a prototype club that he's only had for a couple of weeks — is not unprecedented. Sam Snead tried putting with a croquet style, until the U.S. Golf Association passed a rule that a player couldn't straddle the ball while swinging on the green.
Choi complies with that standard by standing beside the ball when he's putting, facing the cup. And there's no prohibition on swinging the putter between the legs from off the green, a shot that could come in handy at spacious St. Andrews. He plans on using the new club for shots up to 70 feet.
"Obviously, he has a lot of courage to do this coming into a major championship," said Juan Elizondo, a longtime friend of Choi's who designed the triangle-shaped putter and got it approved by the USGA. "But he's relaxed. He thinks it helps his putting. He's not worried what anyone thinks."
Choi used the putter for the first time at last week's John Deere Classic. Even though he missed the cut, he felt the new style could ultimately help his game — as much as a stroke per round, according to Elizondo.
The 2-pound putter weighs about twice as much as the normal club, which in theory will reduce the chance of taking an uneven swing. Plus, only the lower hand is used to guide the club — again, supposedly improving the probability of taking a level stroke.
"With a one-arm lever, you only have half as much chance to go wrong," Elizondo insisted.
Facing the hole simply makes sense, he added, making it easier to stay focused on the line of the putt. So he designed a club to accommodate the new stroke, dubbing it the "JUANPUTT."
"Does LeBron James stand sideways when he's shooting free throws?" Elizondo said.
Choi, who missed the cut at Turnberry a year ago and has never finished higher than eighth at the British Open, figures the change will improve his chances of winning his first major title.
"People say I putted well with the old putter," he said. "For me, there's always room for improvement."
TOGETHER AGAIN: No, Stewart Cink wasn't giving Tom Watson a chance to win the claret jug back.
Cink and Watson played a practice round together Tuesday, repeating their pairing from last year's playoff at the British Open. This time, though, it was all in good fun.
"Tom asked at the Masters if I wanted to play," Cink said. "He said, 'How's 8 a.m. Tuesday?' I said, '8 a.m. Tuesday, it is.'"
Watson's bid to become the oldest major champion at 59 was the feel-good story of the British Open at Turnberry last year. But the five-time British champion missed an 8-foot putt for par on the final hole of regulation, and Cink pulled away in the playoff to win his first major title, breaking the hearts of pretty much everybody outside his own family.
Watson, in fact, might have taken it the best, cracking, "This ain't a funeral, you know," when he walked in for his post-round interview.
Cink and Watson talked often during their round at the Old Course on Tuesday, and clearly enjoyed each other's company. When Watson dropped his driver as he went to sign an autograph, Cink bent over to pick it up. When their group — Matt Kuchar and Cameron Percy — posed for pictures on the famed Swilcan Bridge, Cink and Watson stood next to each other.
The subject of last year's British Open, Cink said, never came up.
"There's no need to go over things. We both know how it went down," Cink said. "And we're friends."
Still, the two will be forever linked because of Turnberry. And that's just fine with Cink.
"He provided a unique aspect to that tournament," Cink said. "It's something for sure that's going to make that tournament special. People will probably think Tom Watson almost won it, and they'll have to think about who actually did. And that's OK with me.
"It won't take me too long to figure it out."
BLOW THE VUVUZELA: Ernie Els was impressed by everything about the World Cup in South Africa.
Well, except for one thing. And his native country has no control over the officiating.
Els praised South Africa on Tuesday for staging a successful World Cup, the first to be held on the African continent. Pre-tournament fears about security, transportation issues and unfinished stadiums were unfounded, and South Africa has been widely praised by FIFA officials, players and spectators.
Spain beat the Netherlands 1-0 in extra time to win its first title Sunday night.
"It was unbelievable," said Els, who watched the tournament from afar. "I've just heard very positive things. I've obviously watched a lot of matches on television. I thought the stadiums looked incredible. I thought the whole tournament went very well."
Now, about those referees …
FIFA president Sepp Blatter grudgingly agreed to consider using video replay or technology after a series of bad calls at the World Cup, including England being robbed of a clear goal and Argentina being awarded one despite Carlos Tevez clearly being offside. The final was a foul fest, too, with English referee Howard Webb giving 14 yellow cards — a record for a World Cup final — and one red.
"I just think some of the referees lost the plot," Els said. "But I think (overall) the tournament went very well."
NO. 1 WATCH: Tiger Woods has been No. 1 in the world rankings for the last 266 weeks, giving him a total of 608 weeks in his career.
But Phil Mickelson has another chance to take the top spot this week. He would move to No. 1 by winning his first British Open title, and has a few backup options as well.
If Mickelson finishes all alone in second and Woods is lower than fourth, No. 1 goes to Lefty. Same if Mickelson claims third place all to himself and Woods is outside the top 14, or if he finishes at least fourth and Woods misses the cut — which happened last year at Turnberry.
AP National Writer Nancy Armour contributed to this report.
Filed under:
Golf
,
Soccer
Tags:
2010 Fifa World Cup
,
Africa
,
Events
,
Fifa
,
International Soccer
,
Men's Golf
,
Scotland
,
South Africa
,
Southern Africa
,
St. Andrews
,
Tiger Woods
,
World Cup