Yushin Okami at the Middleweight Title Hunt
By Chandrajit, Gaea News Network
Monday, August 2, 2010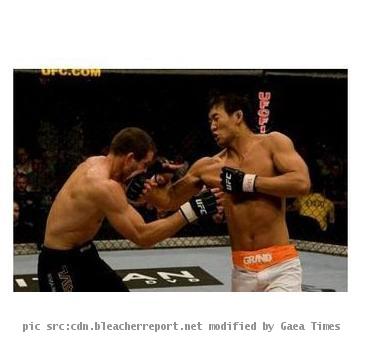 more images
NEW YORK (Gaeatimes.com) — Yushin Okami had his last fight with Mark Munoz, touted to be the man who does'nt stop. Okami, the Japanese Mixed Martial Arts Fighter seems to be in a dangerous position at the Middleweight Title Hunt. He might be out from the 185-lb scene any moment. This has made his stay at Middleweight belt, quite unstable.
Mark Munoz had been stopped only once by Matt Hamil. Since then, Munoz remained unconquerable and perhaps that explains why Munoz is a UFC Middleweight Champion. It's better to say that Munoz was even hard to touch in the fight with Yushin. The fight was exciting enough but a split decision was never justified.
Munoz did not miss any chance to deliver the blows but he was actually looking for a Ground-and-Pound which he failed. The takedowns by Munoz were well defended by Okami. The fight continued with the coins tossing in favor of Munoz. In the end, the good time for Okami was up but he failed to give it a finish due to a time-out.
But, interestingly enough, Okami is still lined up for the belt. Other Middleweights, be aware. You might get clapped by a "thunder".