PGA Championship 2010 disrupted due to deep fog
By Soumitra Mondal, Gaea News Network
Thursday, August 12, 2010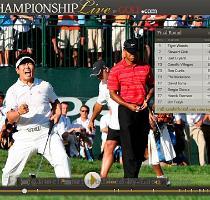 more images
New York (GaeaTimes.com) - The opening round of the U.S. PGA Championship 2010 started today, 12th August, 2010. It was certain to spill over into a second day after deep fog delayed the scheduled start by more than three hours. It is the 92nd PGA Championship. It started at the Straits Course of the Whistling Straits complex in Haven, Wisconsin.
The fog was so deep that the visibility was limited to less than 50 yards on the practice range despite early morning sunshine at Whistling Straits. This is the biggest problem of U.S. PGA Championship 2010. For this reason, Americans Bo Van Pelt, Scott Hebert and Vaughn Taylor, initially scheduled to tee off from the par-four first at 0700 local (1200 GMT), were set to start at 1010 (1510 GMT).
There is going to be several storylines to draw the attention as the 2010 PGA Championship gets underway, including the never-ending quest by Phil Mickelson to get to the No. 1 ranking. This will be the eighth straight tournament where Mickelson has a chance to take over the top spot. There are other things that Phil Mickelson might need to start worrying about if he can't catch No. 1 Tiger Woods soon, and that is Lee Westwood coming up from the No. 3 slot. Westwood also had a terrible tournament at Bridgestone.
Tiger Woods was scheduled to start his opening round from the 10th hole at 11:30 (16:30 GMT). While Phil Mickelson was set to tee off from the first at 16:45 (21:45 GMT) with Britain's U.S. Open winner Graeme McDowell and British Open champion Louis Oosthuizen of South Africa.
The last time PGA Championship winner was South Korean Y. E. Yang. The last time a major was played at Whistling Straits, also on the Straits Course, was the 86th PGA Championship in 2004, which was won by Vijay Singh. This year's PGA Championship is the second held at Whistling Straits.
The PGA Championship 2010 TV Schedule starts on TNT from 10 a.m. to 5 p.m. PST (1 p.m. to 8 p.m. EST). TNT will telecast it in same time on 13th Aug, 2010. On 14th and 15th Aug, 2010 it will telecast as in TNT - 8 a.m. to 11 a.m. PST (11 a.m. to 2 p.m. EST) and in CBS - 11 a.m. to 4 p.m. PST (2 p.m. to 7 p.m. EST). Besides in TV the championship will telecast live on www.golf.com.