India Vs New Zealand: The Drama Continues
By Tias, Gaea News Network
Monday, November 8, 2010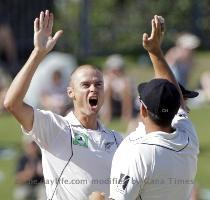 more images
AHMADABAD, INDIA (GaeaTimes.com)- The first test between India and New Zealand has turned into a roller coaster ride for the fans after the game has shown twists that fit a TV soap. The first innings and the first two days belonged the host. Posting a 450+ total against a side that came in from a crushing defeat against Bangladesh, it looked like India were looking at a cakewalk against the Kiwis. The New Zealand side, however, showed great character on the third and fourth day and fought tooth and nail to comeback into the test. As Day 4 unfolded, however, the game took an almost fairy tale turn for the visitors and the much acclaimed Indian batting line-up crumbled under force called Chris Martin.
Starting the third innings in the middle of Day 4 on Sunday, Indian fans hoped that the batsmen would like to build on the small but significant lead on New Zealand and then crush the visitors on the last session of the final day. Gautam Gambhir and Virender Sehwag, the finest openers in the game today, might never have predicted that Chris Martin would start bowling out of his skin from the very start. With Gambhir dismissed off a cracker of a delivery and Sehwag run out the Indians had more wickets down than runs scored at one point of time (1/2). Chris Martin continued the assault and the Indians found themselves in an embarrassing 15/5 in the 11th over and it looked like the match will be over soon.
It was the heroics of VVS Laxman and Harbhajan Singh that has kept the Indian hopes alive in the game. Still batting in their 60s, the two players have ensured that the chances of an upset by New Zealand are reduced. The Indians have crossed the 150 mark with 4 wickets in hand and it looks like New Zealand might have to chase a 200+ total in the final innings.
Filed under:
Cricket
,
World
Tags:
1st Test
,
Ahmedabad
,
Chris Martin
,
Day 4
,
Day 5
,
Gautam Gambhir
,
Gujarat
,
Harbhajan
,
Harbhajan Singh
,
India
,
Laxman
,
New Zealand
,
Virender Sehwag
,
VVS Laxman