Devin Hester Sets NFL Record
By Naiwrita Sinha, Gaea News Network
Tuesday, December 21, 2010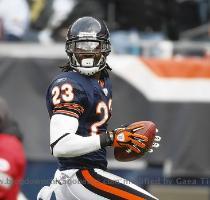 MINNEAPOLIS (GaeaTimes.com)- Monday night turned out to be a huge bash for the Chicago Bears not only for the team which won the game against the Minnesota Vikings at the TCF Bank Stadium but also for its wide receiver Devin Hester. As the Chicago Bears went on to crush the Vikings with a result of 40-14, the Chicago Bears ardent fans tore the stadium apart with their cheers for the team. The night turned out to be one of extreme happiness as Devin Hester created a record by scoring 14 return TDs. The Vikings' hopes were dashed after they lost the game in their home ground against the visiting team.
Devin Hester made the record for himself after he went on to score a 64 yard punt return during the third quarter of the game against the Vikings. It had resulted in combined touchdowns. Right now, the Chicago Bears player is the only one who is holding the record of 14 return TDs. As Hester set the record, the stadium was flooded with praises coming from the football experts.
Devin Hester not only helped his team to win the game but also strengthened his personal book of records. After last night, he has notched the top position of scoring the maximum return touchdown by any NFL player by breaking the record that was earlier set by Brian Mitchell. According to sources, after the match ended last night, there has been no dearth of congratulatory messages for the player owing to the amazing feat that he had achieved. A source close to the Chicago Bears camp said Devin Hester's teammates are extremely happy for him. However, it is not the teammates alone but also coach Lovie Smith is equally excited about the record set by the player.