Fisher scores 2 goals to lead Senators to 3-2 victory over Maple Leafs
By AP
Tuesday, November 17, 2009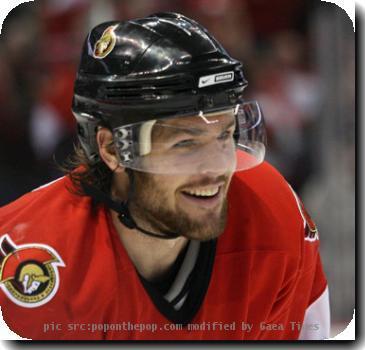 Fisher scores twice, Senators beat Maple Leafs 3-2
OTTAWA — Mike Fisher scored twice, including the tiebreaking goal in the second period, and the Ottawa Senators beat the Toronto Maple Leafs 3-2 Tuesday night.
Fisher beat Vesa Toskala with a high shot with 5:50 left in the second period to help the Senators rally from a 2-1 deficit.
Milan Michalek also scored for the Senators (9-6-3), who earned their first win in three games. Alex Kovalev, Alexandre Picard and Chris Campoli added two assists each.
Pascal Leclaire stopped 30 shots in goal, including 15 in the third period when the Maple Leafs pressed for the tying goal.
Phil Kessel and Niklas Hagman scored for the Leafs (3-11-5), who lost their fourth straight. Kessel extended his point-scoring streak to six games, during which he has five goals and three assists.
Rookie defenseman Carl Gunnarsson picked up an assist on Kessel's goal for his first NHL point. Toskala, still looking for his first win of the season, made 18 saves and fell to 0-4-2.
There were three fights in the opening 20 minutes. Ottawa's Jesse Winchester and Toronto's Jeff Finger got things started early, dropping the gloves less than 3 minutes in. Senators defenseman Matt Carkner and Leafs winger Colton Orr squared off midway through the period, with Orr catching Carkner with a punch that dropped the big blue-liner. About a minute later, Ottawa's Chris Neil went at it with Toronto's Luke Schenn.
Fisher pounced on a loose puck in the slot and slipped a shot past Toskala to make it 1-0 at 8:08 of the first. It was the 17th time in 19 games that the Leafs have given up the opening goal.
However, the Leafs tied it 62 seconds later when Kessel crossed the Senators' blueline and wristed a shot past Leclaire.
Hagman put the Leafs into the lead when he beat a screened Leclaire less than 5 minutes into the second, but the Senators responded when Michalek scored on a deflection with Hagman in the penalty box for hooking midway through the period.
Leclaire was at his best in the third when made a great save to reach his stick back and steer the puck out of the crease after a fluke bounce almost got past him. He survived another close call when Leafs forward Lee Stempniak struck the post with a shot from in close.
NOTES: Carkner leads the NHL in fighting majors with nine. Orr has seven. … The Senators have dominated the season series in recent years, improving to 20-9-3 against the Leafs since 2005-06, including a 11-3-2 mark at home. … Six of the last eight matchups have been decided by one goal.