No international matches in Ferozshah Kotla until 2010 end: ICC
By ANI
Thursday, January 21, 2010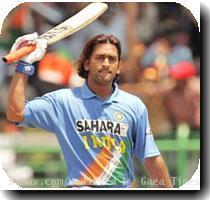 NEW DELHI - The International Cricket Council (ICC) has banned Ferozshah Kotla in the national capital from hosting international matches for a year after match referee Alan Hurst reported the wicket prepared for the fifth and final ODI between India and Sri Lanka as "unfit".
"Following the conclusion of a full investigation into the circumstances that led to the abandonment of a One-Day International match between India and Sri Lanka on 27 December 2009, the ICC confirms that no international cricket will be played at the New Delhi ground until the end of December 2010," an ICC statement said.
The match played on December 27, 2009 in Delhi was abandoned after 23.3 overs had been bowled, after the Sri Lankan team complained to the Hurst that the pitch was dangerous.
Due to the uneven bounce of the pitch, Sri Lankan cricketers who went on to bat had to face a lot of problems.
Tillakaratne Dilshan was hit on his left arm as a ball took off unexpectedly, leaving the batsman in pain the play was finally stopped when Team India skipper Mahendra Singh Dhoni failed to collect a delivery of the ball of fast bowler Sudeep Tyagi.
Sri Lanka were 83/5 when skipper Kumar Sangakkara came onto the field to have a chat with the umpires and his Indian counterpart Dhoni.
After a discussion with the umpires and the two skippers, Hurst finally called off the play declaring the pitch unfit to resume the match.
Based on his report of the match, Kotla, which is scheduled to stage four World Cup matches in 2011, faced strict sanction ranging from a fine to a ban of 12 to 24 months.
Earlier, Kotla had lost out on hosting a Test match between India and South Africa in February-March. The ground was supposed to host one of the two matches that were to be played during the series. (ANI)