Laxman, Dhoni put India in complete sway (Tea Report)
By Sirshendu Panth, IANS
Tuesday, February 16, 2010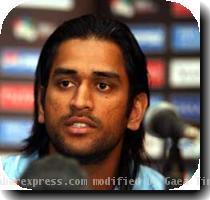 KOLKATA - V.V.S. Laxman and skipper Mahendra Singh Dhoni were on the brink of centuries as India piled up a huge total to take a 254-run first innings lead and dictate terms at tea on day three of the second cricket Test against South Africa here Tuesday.
At the break, Laxman was on 97 (269 mins, 184 b, 12×4), reaping the fruits of a dropped catch by Jean Paul Duminy off Wayne Parnell at backward point at 48.
Playing in his trademark aggressive style, Dhoni was batting on 85 (189 mins, 137 b, 10×4, 1×6) as India reached a mammoth 548 for 6 in reply to the visitors first innings total of 296. The seventh wicket partnership is already worth 164.
Laxman is also five short of completing 1,000 runs at his favourite ground Eden Gardens, where he has already cracked three hundreds. Between lunch and tea, the Indian duo completely dominated the South African bowling as they let loose a flurry of scintillating shots.
After being cautious in the opening session, the stylish Hyderabadi opened up in the post-lunch period to play a top class knock with a spree of wristy strokes giving much cheers to the crowd.
If Laxman was top art, Dhoni was intimidating for the bowlers, who were already reeling under the onslaught from the earlier batsmen.
As the Indian lead kept going up, South African bowlers seemed more and more to be going through the motions. The 100 of the pair was posted in 125 minutes, while Laxman brought up the 500 of the Indian inning with a couple off Duminy in the 17th over after lunch.
In the morning, Laxman played a watchful knock as India fought through a fine spell from Dale Steyn to consolidate their position and reach 431 for six, benefiting from sloppy catching by the South Africans, who spilled three chances.
Night watchman Amit Mishra (28) survived two chances before becoming the only batsman to fall in the pre-lunch session that saw the Indians score 89 runs after resuming at 342 for five.
Playing under overcast conditions, Mishra and Laxman added 48 for the sixth wicket as Steyn bowled his heart out sticking to a good off stump line, beating both batsmen on several occasions.
Spinner Paul Harris, who began proceedings from the other end, almost got Mishra in his first over but Jacques Kallis dropped the edged cut at slip.
The new ball was taken after the 84th over, the ninth of the innings, and shortly thereafter Mishra got another reprieve when rival captain Graeme Smith failed to latch on to an overhead catch off Kallis. Smith's left little finger injury seemed to have played a part in the faux pas as he only stretched his right hand to reach for the ball.
Mishra (38 b, 56 mins, 5×4) departed a little later as he attempted an upper cut off Morne Morkel and finished in the hands of Kallis at second slip.
Laxman was quiet at the other end, and took 38 balls to move from 21 to 22.
Dhoni, however, looked his customary aggressive self, as he posted the team's 400 in the 98th over with a pull through mid-wicket off Kallis.
The butter-fingered South African fielders also gave a life to the Indian skipper, with Kallis failing to reach an outside edge. Harris was again the unlucky bowler.