Canada leads women's bobsled, but United States' Erin Pac lurks close behind in medal hunt
By Tim Reynolds, AP
Wednesday, February 24, 2010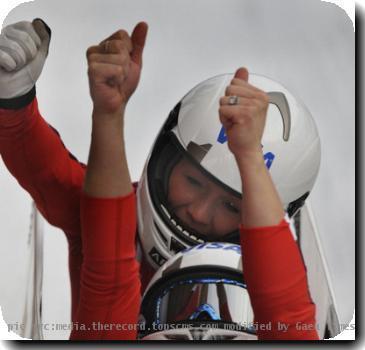 Canada leads women's bobsled; USA-2 close behind
WHISTLER, British Columbia — Canada's Kaillie Humphries saw her name atop the leaderboard, then offered a message to the Olympic women's bobsled field.
"Bring 'em all," she said.
That means you, Erin Pac.
It's no surprise that Humphries and brakeman Heather Moyse have Canada-1 in front at the midway point of the Olympic race, considering they know the icy speedway disguised as a track at the Whistler Sliding Center better than any other team in the world.
It's a colossal surprise, probably even to Pac, that USA-2 — and not Shauna Rohbock's USA-1 — is in second place entering Wednesday's final two heats, just 0.13 seconds away from the top spot. And that's all while Pac is racing with a strained left hamstring that impacts her effectiveness at the start, and on a track that she called "a huge struggle" just a few days ago.
Humphries drove Canada-1 down the track twice in 1:46.20 seconds. Pac and Meyers were clocked in 1:46.33. It's a wide gap of another 0.27 seconds to third, held by Germany-2 pilot Cathleen Martini.
"I thought the standings would be a little different," Pac said, "but I'm happy to be in there."
Pac drove into medal contention, on a track where a lot of contenders are trying to avoid driving into walls.
Defending Olympic gold medalist Sandra Kiriasis of Germany is fifth, one spot ahead of pilots Shauna Rohbock in USA-1 and Bree Schaaf in USA-3. Rohbock and Schaaf are nearly a full second off Canada-1's lead.
"Not good," said Rohbock, a silver medalist in 2006. "I've been struggling in (curves) 4 and 5 all week, and I just couldn't put it together. Nobody has a clue."
Well, not nobody. Humphries and Pac sure seem to have an idea of what's happening out there.
It was the first competition on the Whistler track since workers shaved away a bit of ice entering Curve 11 — a subtle, yet important move made to help give sleds the chance of finding the right line entering the most critical part of the course through Curve 13. Four-man drivers who trained Tuesday before the women's race said they found it much easier to navigate, though still extremely difficult.
Schaaf said she couldn't feel the changes.
"I don't think there are any," Schaaf said. "Does that sound bad? I don't try to sound negative. I had the exact same mistakes all the way down. I think it might have been like a little placebo track changes, to make us all think that everything's great. Because I had the exact same problems."
It's still the toughest track in the world.
"With 11, 12 and 13, everything's wide open," Rohbock said. "Look at what happened to Lyndon Rush."
He's the Canadian medal hopeful who crashed during the two-man competition — admittedly, before the ice was modified.
There wasn't a single crash Tuesday, though plenty of scrapes with big trouble.
Manami Hino of Japan did everything but crash in her second run, going sideways near the track's roof in one corner, yet escaped unscathed. Australia's Astrid Loch-Wilkinson nearly lost control as well, and even Kiriasis — long considered the best women's driver in the world — flirted with danger on the very first run of the competition, skidding a bit sideways and losing time.
"I (messed) up," Kiriasis said.
Somehow, Pac was perfect — on a track where, just a few days ago, she felt entirely uncomfortable.
"Two more runs," Pac said, "and I'm just focusing on that right now."
American sliders skipped Monday night's final women's training session, choosing not to get a look at the slightly modified ice before the race.
The day off might have done Pac a world of good.
After hurting her leg on Saturday, Pac's status for the games seemed to be a bit of question, especially after Meyers — she of the red, white and blue mouthpiece during races — used Twitter to tell fans to "pray for Erin's health."
That balky leg sure looked fine Tuesday. Good enough, anyway.
"I can't worry about that," Pac said.
Women's bobsled came into the Olympic program in 2002, and the U.S. has been one of the elite programs in the world since, with Jill Bakken and Vonetta Flowers winning gold at Salt Lake City, followed by Rohbock and Valerie Fleming taking a silver at Turin in 2006.
Pac has the Americans thinking podium once again.
Finding a way past Canada-1 for the top spot, that might be daunting.
Humphries and Moyse have shown off the best starts in the world all season, and with a few snowflakes dotting the ice at the start of the Olympic race, they were the best off the line again — a time of 5.12 seconds in the first run, then 5.11 seconds in the second run.
From there, Humphries took over, the experience gleaned from 150-plus runs on the Olympic surface paying off in every turn.
"The race isn't over yet," Humphries said.
Filed under:
Featured Article
,
Olympic Games
Tags:
Bobsledding
,
British Columbia
,
Canada
,
Geography
,
North America
,
Sports
,
Sports Names
,
Twitter
,
United States
,
Whistler
,
Winter Olympic Games
,
Women's Sports