Cheryl Bernard Swimsuit Photos: Are They Real?
By Ronee, Gaea News Network
Saturday, February 27, 2010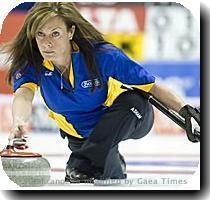 more images
VANCOUVER, CANADA (GaeaTimes.com)- Cheryl Bernard swimsuit photos are one of the top searched pictures on internet. Following her recent success at the Vancouver Winter Olympics, people are willing to know more about her. The 44-year-old Canadian curler denies that she has ever posed in swimsuit. She reportedly said, "There's no truth to it."
It is not yet clear whether Cheryl Bernard has really posed for a calendar in her swimsuit. There was a 2009 calendar featuring women curlers. The confusion arose as in the calender there is a photo of a woman with bare back who is holding a curling stick. Her hair is very similar to that of Cheryl Bernard. Therefore, people started assuming her to be Cheryl Bernard.
In the 2009 calendar, there are hot photos of curling stars who are wearing revealing clothes. The curling stars are from different countries which also includes Canada. Reportedly, 2 of the women featured in the 2009 calendar are from Canada. One of them is reportedly Christine Keshen and the other is Chrissy Cadorin. The other women in the calendar include Camilla Jensen from Denmark, Fabienne Fuerbringer of Switzerland and Kasia Selwart of Poland. Some sources have indicated that Cheryl Bernard did not feature in the calendar. Though people are widely searching for Cheryl Bernard swimsuit photos on internet, no such snaps are found. It further justifies the fact that it is just a rumor. Amidst the swimsuit photo controversy of Cheryl Bernard, Canada secured the silver medal in the finals at the Winter Olympics on Friday. Canada lost the final game to Sweden with a score of 7-6.