Gulbis win prevents Spanish sweep in Rome
By DPA, IANS
Saturday, May 1, 2010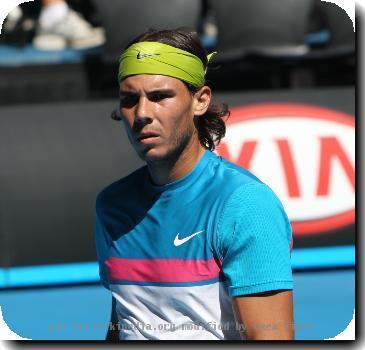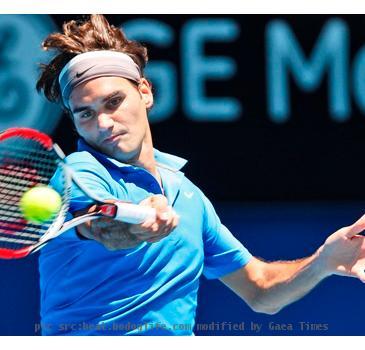 ROME - Ernests Gulbis defeated Feliciano Lopez 7-6(6), 6-1 at the Rome Masters tennis to prevent an historic Spanish sweep into all four semi-final places.
The Latvian who beat Roger Federer in the second round at the Foro Italico showed his feat was no fluke with his victory Friday and prevented an unprecedented Iberian domination in Rome.
Four-time winner Rafael Nadal had joined compatriots Fernando Verdasco and David Ferrer to thrust within range of the record with his 6-4, 6-1 win Friday over Swiss Stanislas Wawrinka.
"I don't think I played my best match tonight," Nadal said. "After the first set, I played better with my forehand. In the first set I didn't go to the net because I wasn't dominating the game.
"I have a lot of respect for Stan, he has some great shots and is one of the best players in the world. I wasn't surprised by his level because I know how good he is."
Sixth seed Verdasco did it tough, fighting for three-and-a-quarter hours to eliminate second seed Novak Djokovic 7-6 (7-4), 3-6, 6-4 in a draining marathon.
"Of course I feel tired. I played many matches, but I'm also very happy because I am in the semifinals again tomorrow. I don't know how I will feel, but I hope good," Verdasco said.
It went quickly for Ferrer a day after the number 13 ambushed Andy Murray, with the Spaniard defeating French seventh seed Jo-Wilfried Tsonga 6-4, 6-1 in a mere 71 minutes, a duplicate of Nadal's scoreline.
Nadal, who has won four of the last five editions in Rome, improved his mark over 2008 finalist Wawrinka to 5-0 with his victory, his eighth win in a row on clay.
The four-time French Open winner claimed a sixth straight Monte Carlo title a fortnight ago, then skipped last week's home event in Barcelona to rest.
His Rome effort has been a study in dominance, as he improved to 24-4 on the season with a loss of only 14 games this week.
Djokovic's loss to Verdasco was his earliest for the number two at the Foro Italico since 2007, when he was beaten by Nadal at the same stage. Djokovic won the clay title in 2008 and lost to Nadal in the title match a year ago.
"I played well. It was a tough match to lose," Djokovic said.
"I was close to victory, but I didn't have the luck. But that is sport, and life goes on. I have two more weeks of tournaments now before the French Open, including my home event in Belgrade, and Madrid.
"I knew we would have a long match, and I missed a few chances in the third set. That third game where I saved four or five break points and then lost my serve was a big key. We both played at a very high level. I still have faith in my game."
Verdasco's win over Djokovkic came a fortnight after he thrashed the Serb in the Monte Carlo semis on the way to a losing final with Nadal.
Djokovic held a 5-3 lead in the series going in.