"Undertaker Dead" Rumor Spreads
By Priyanka Roy Chowdhury, Gaea News Network
Sunday, June 6, 2010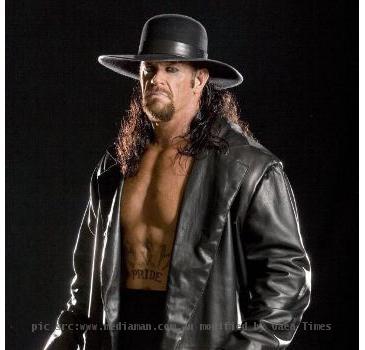 more images
LOS ANGELES (GaeaTimes.com)- The Friday night episode of the World Wrestling Entertainment's "SmackDown brand" has left the fans of Undertaker baffled. The question that is intriguing the mind of the fans is, whether the Undertaker is really dead or not. The doubt germinated when on Friday night's episode it was shown that the brother of Undertaker, Kane came to the show and got emotional about his brother. Kane said that he had found Undertaker in a "vegetative state" or in a state of coma after an unknown assailant had attacked him. Kane also went on to say that he would not leave the person who had done the harm to his brother Undertaker.
The above story line had led many fans of the wrestling hero Undertaker to believe that he is dead. However, as per the reports, 'Undertaker dead' is only a hoax. Reports claim that the storyline of WWE was changed to accommodate the present need of rest for the WWE star Undertaker. On the last week's episode of the "Smackdown brand", Undertaker and Rey Mysterio entered a deadly fight. Though at the end Undertaker was able to defeat Rey Mysterio, the former had to suffer multiple injuries. Mark William Calaway broke his nose, his orbital bone and also suffered a concussion during the fight. These wounds will take time to heal and therefore Mark William Calaway or the Undertaker would not be able to make it to the WWE episodes for sometime now.
Therefore, the WWE has planned to twist the story a bit. Though it is still not known what the WWE plans with the storyline of "SmackDown brand", it is most likely that Undertaker will be returning to the ring after a few weeks.