SummerSlam Results: Kane Wins Over Rey Mysterio
By Reema, Gaea News Network
Monday, August 16, 2010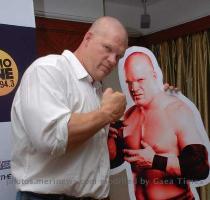 more images
LOS ANGELES (GaeaTimes.com)- The SummerSlam pay-per-view game that was held at Staples Center in Los Angeles turned out with full of surprises for the viewers. During the SummerSlam 2010 event Kane was placed against Rey Mysterio, and after an exciting battle between the two, Kane was able to retain his World Heavyweight Championship Title over Rey Mysterio. However, more than the result of the SummerSlam event, it was the return of The Undertaker that excited the viewers on Sunday.
At the beginning of the game, Rey Mysterio came up with some amazing moves and maintained an upper-hand over Kane. Rey Mysterio began by kicking on the leg of Kane who fought back with a slam and some hits. They moved outside the ring post and this time Kane dominated over Rey Mysterio by throwing the latter into the ring post. Kane went for a pin but Rey Mysterio aborted the attempt. The game turned interesting as both Kane and Rey Mysterio counter attacked each other for a long time. However, towards the end it was Kane who was able to lead over Rey Mysterio. Kane went on to assert that he would make Rey Mysterio pay for whatever he had done to his brother, The Undertaker.
However, following the tradition of World Wrestling Entertainment, the SummerSlam Kane vs. Rey Mysterio fight came up with some surprises as well. As Kane went on to open the casket he had brought with him to the ringside to put Rey Mysterio in, all were surprised to find The Undertaker emerging from it. While at the beginning Undertaker charged Rey Mysterio, the latter eventually was able to prove his innocence and the wrath of Undertaker turned towards Kane who was projected as the culprit. However Kane was able to overpower Undertaker as well and the SummerSlam results for the event went in favor of Kane.