Daniel Bryan Shines in WWE Summerslam 2010
By Shaon, Gaea News Network
Wednesday, August 18, 2010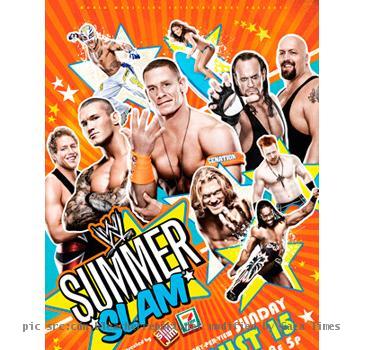 more images
LOS ANGELES (GaeaTimes.com) — The Summerslam PPV is a widely anticipated affair for the WWE Universe. Over the years Summerslam has gained much popularity. It ranks right up there with other premier events like WrestleMania and Royal Rumble. There have been a lot of classic matches for the event. People still remember the show stealing 'no disqualification match' between Triple-H and Shawn Michaels, way back in 2002. But this years SummerSlam event left a lot to be desired.
Firstly, there were a very few matches that were scheduled for the premier event. The night started off with a average match between Dolph Ziggler and Kofi Kingston that was put to a screeching halt following the meddling of the Nexus. The Alicia Fox vs Melina Diva match was an embarrassment after Alicia forgot about Melina's shoulder injury. The show, the divas put on was nothing to get excited about. The Big Show vs The Straight Edge Society match was feeling a bit forced. The match had nowhere to go after it started. After a while, the bout became boring. Sheamus and Randy Orton tried their best to take things to SummerSlam level but the ending left the fans in a lurch. The DQ result is not what the fans hoped for. Right from the outset, Undertakers interference in the match of Kane vs Rey Mysterio was inevitable. But it was surprising to see that the Undertaker was man handled by "The Big Red machine". Mysterio was the star of the match as he made some magical moments. He made a flying headbutt off the top rope. Kane won the match fair and square, with a devastating choke slam. The main event was what SummerSlam dreams are made of. The much anticipated return of Daniel Bryan was a surefire way for a classic. The length of the match was overtly long. But, it was all good as fans cheered the superstar John Cena as he STF ed the opponents to clinch the victory.
The SummerSlam 2010 was average but the last match was worth the while. Brett Hart and Daniel Bryan made the night special for the thousands of fans in attendance and marked his return to form. As fans of the WWE we expect the world out of them. The people were genuinely speculating the return of The Rock. But, he didn't show up. All we can say is, we are waiting for the ATTITUDE to come back as well.