Daniel Bryan Returns To Ring
By Reema, Gaea News Network
Monday, August 16, 2010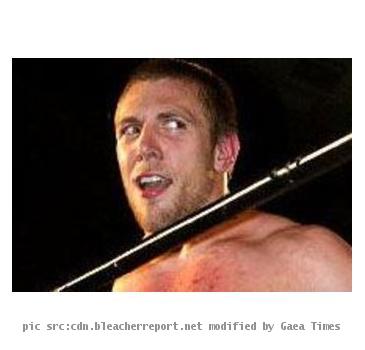 more images
LOS ANGELES (GaeaTimes.com)- On Sunday Daniel Bryan returned to the ring of World Wresting Entertainment. He was the last RAW member to join the team WWE during the 7-on-7 Elimination Match fought between Team WWE and The Nexus at the Staples Center in Los Angeles. The "American Dragon", Daniel Bryan was announced as the seventh member to join the WWE team replacing The Miz. The wrestler displayed some great fighting skill during the game and was able to eliminate a few of his opponents before getting himself eliminated. However the Team WWE was able to win the 7-on-7 Elimination match against The Nexus at the end of the Sunday game.
Apart from Daniel Bryan, the WWE team consisted of John Morrison, R-Truth, John Cena, Bret Hart, Edge, and Chris Jericho. The Nexus came up with stalwarts like Heath Slater, Skip Sheffield, Michael Tarver, David Otunga, Wade Barrett, Justin Gabriel, and Darren Young. During the fight, Daniel Bryan was the first to get one of the wrestlers of the opponent team out of the ring. He was able to reduce The Nexus to six by eliminating Darren Young with an omoplota with a crossface. He remained in the ring and supported his team against the remaining members of The Nexus. After Heath Slater eliminated Edge with a roll-up, Daniel Bryan came up with a mighty crossface omoplata to eliminate the former. However, although he was able to eliminate Heath Slater, he himself got eliminated when The Miz attacked him with the Money in the Bank briefcase.
Daniel Bryan became the last member to get eliminated from the fight before John Cena went to win the match for the Team WWE by catching Wade Barrett in the STF. Although Daniel Bryan got eliminated and could not manage to get the winning shot, there is no denying the fact that his performance was one of the most power-packed ones during the SummerSlam pay-per-view fight.