Maiquel Falcao Defeats Gerald Harris
By Tias, Gaea News Network
Sunday, November 21, 2010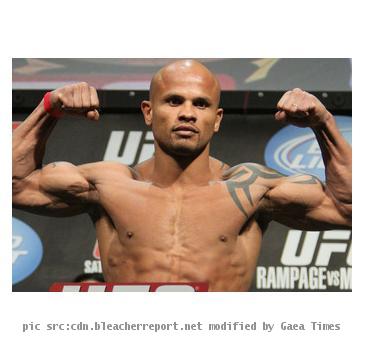 more images
AUBURN HILLS (GaeaTimes.com)- In what was one of the most low-key fights in the UFC 123, Maiquel Falcao defeated Gerald Harris in a three round decision that could have gone either way. In spite of the dull fight, it was a big one for Maiquel Falcao as it was also UFC debut.
The first round started slow and both fighters merely danced around each other for the first two minutes. The first punch came from the UFC newcomer and soon he was seen landing a number of quick punches that sent Gerald Harris to the ground. Gerald Harris fought from the ground for most of the round and soon Maiquel Falcao took his back. Though Maiquel Falcao looked like he could end the fight with a rear choke but Gerald Harris fought out of the position and held on till the end of the round. In the second round, Maiquel Falcao was more aggressive and landed a number of strikes in quick succession. Gerald Harris tried to shoot for the knee but Maiquel Falcao quickly got in position for another rear choke. Gerald Harris again managed to recover from the position and managed to take the fight to the third round.
In the third round, the audience started to feel as if they were watching the replay of the first few minutes of the fight. In spite of loud boos from the audience, the fighters rarely engaged themselves and looked content with dancing around the ring. In spite of the high expectation and the win, Maiquel Falcao failed to impress the audience in his UFC debut.