Ryo Ishikawa At U.S. Open
By Naiwrita Sinha, Gaea News Network
Sunday, June 20, 2010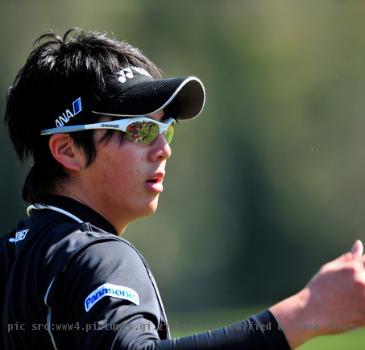 more images
CALIFORNIA (GaeaTimes.com)- Ryo Ishikawa, the most famous, most popular professional golfer of Japan whom Rory McIlroy calls his hero after playing with him, started his professional golf career in 2007 and impressed golf fanatics and players with his strong start in U.S. Open debut on Thursday, June 17. On the first day the player was wearing a bright bubblegum pink outfit which made him look all the more cheery. Ryo Ishikawa scored four birdies and three bogeys for a 1-under 70 at Pebble Beach Golf Links.
On Friday, June 18, Ryo Ishikawa shot even par 71 in round two on Friday, which gave him a share of second place in the game which is 1 under par halfway point with Phil Mickelson (66), Ernie Els (68) and Dustin Johnson (70). They were leading before Graeme McDowell (68) by two shots. Ryo Ishikawa had an impressive score of 141 after his two matches on Friday. He was wearing a cherry red colored zip-zap sweater and looked confident about the game. After the game Rory McIlory who played with him along with Tom Watson praised this 18 year old Japanese sensation saying Ryo Ishikawa played "fantastically" and commented that if Ryo Ishikawa could keep his short game the way it was, Rory McIlory would definitely see him competing the week ahead.
Ryo Ishikawa, who won seven titles in the Japan tour, even impressed Tom Watson, 60, who played with Ryo Ishikawa and said that Ryo Ishikawa reminded him of his teen days when he was 18 years old, he even said that the Japanese golfer with his great combination of high, great putting and great touch can surely manage to win the games in future. The U. S. Open at Pebble Beach saw this 18 years old golfer rise to his glory with praises, appreciations as he proved himself in his matches with his commendable scores and good sportsmanship.