Spain End Germany's Run
By Tias, Gaea News Network
Thursday, July 8, 2010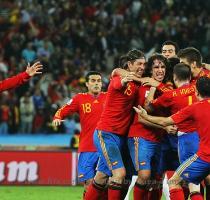 more images
JOHANNESBURG (GaeaTimes.com)- Spain proved yet again to be the nemesis numero uno for Germany as they thrashed the European giants in the 2010 FIFA World Cup Semifinal. The Germans who were looking for revenge after the 2008 European Championship loss against the Spaniards, were left completely stunned as an unlikely defense-man clinched the first and final goal of the game in the 74rd minute. The winning goal came from Carles Puyol who made headed a corner into the net.
Germany was playing in their 12th World Cup Semifinal against a side that qualified for the first time so far in the tournament. Spain however have proved themselves to be the best in Europe but now they are well on their way to claim the title of World Champions. The match saw the Germans scrambling for control as the Spaniards showed what touch football and quality passing meant. After defeating Maradona's men, Germany were at the peak of their momentum. Some experts agree that it was the absence of Thomas Mueller that made the German side look slightly uneasy against the Spaniards who were also missing Fernando Torres and Fabregas.
The German coach Jonathan Toew said after the match that Spain is the best side of the tournament and he is also sure that it will win the title. Spanish coach Vicente del Bosque said that the German side did not play as good as expected but his side played very superior football. Spain will now face Netherlands in the final. Netherlands, who have come from a 2-1 win over Brazil and fabulous display against Uruguay in the semi-final with a 3-2 win, are also in a momentum that makes them look invincible.