Davis Cup: France lead defending champ Spain 2-0, Croatia and Serbia tied
By Foster Niumata, AP
Friday, July 9, 2010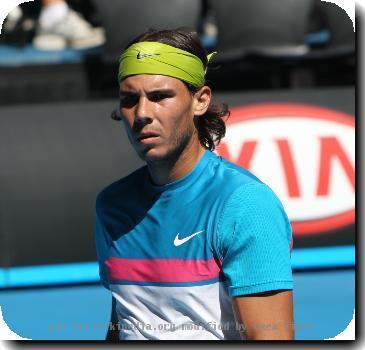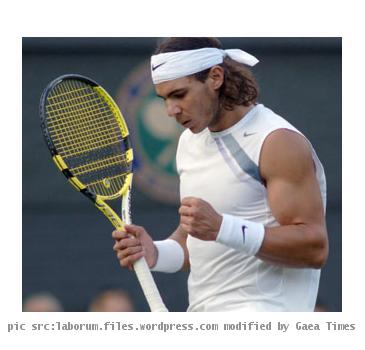 Spain's reign almost over? France lead 2-0
LONDON — Spain's two-year grip on the Davis Cup was tenuous after losing both opening singles to France, while Croatia and Serbia were tied 1-1 in their quarterfinal on Friday.
Also, the Czech Republic looked set to reach successive semifinals for the first time after sweeping Chile 2-0 in Coquimbo, and Mikhail Youzhny soothed Russian worries by tying Argentina 1-1 in Moscow.
Spain has never come back from 0-2 down in the Davis Cup. France, which hasn't beaten Spain for 87 years, remained wary.
"We could lose the last three matches. So we'll try to remain cautious," France captain Guy Forget said.
Gael Monfils ended David Ferrer's eight-match winning streak in Davis Cup 7-6 (3), 6-2, 4-6, 5-7, 6-4 in an opening singles that lasted 3 hours, 57 minutes.
"I've impressed myself a little bit," said Monfils, who only made his cup debut last year.
Then Michael Llodra, who'd never won a meaningful singles in his eight-year cup career, stunned Fernando Verdasco 6-7 (5), 6-4, 6-3, 7-6 (2).
"On that kind of surface, I knew that I could be a pain in the neck," he said of the indoor hard-court in Clermont-Ferrand.
Monfils and Llodra "won today because they took the initiative and made the Spaniards doubt," Forget said.
Spain is playing without Wimbledon champion Rafael Nadal. The top-ranked player pulled out of match to rest his sore knees. France is playing without its highest-ranked player Jo-Wilfried Tsonga.
On Saturday, Llodra and Julien Benneteau, who won their second tour title in Marseille this year, will combine in the cup for the first time to try and seal the tie against Verdasco and Feliciano Lopez, who have a 6-3 record in cup doubles.
The opening day of the first Davis Cup tie between former Yugoslav teams Croatia and Serbia went as expected, with Novak Djokovic beating Croatian stalwart Ivan Ljubicic 7-6 (3), 6-4, 6-1. Marin Cilic ran his record to 5-0 against Viktor Troicki of Serbia 6-4, 7-5, 6-2.
Ljubicic ended a three-year retirement from the Davis Cup to answer Croatia's injury woes in Split. The hero of the 2005 champions felt the passionate expectations of his homeland against a country it was at war with less than 20 years ago.
Even so, he wasn't impressed when Croatia fans booed and jeered and refused to stand when Serbia's national anthem was played, and some chanted "Kill the Serb" and other abuse at Djokovic.
"They affected my concentration just as they did his," he said. Ljubicic had 11 double-faults and 62 unforced errors, compared to Djokovic's 25.
Serbia will send out world doubles No. 1 Nenad Zimonjic and Janko Tipsarevic on Saturday against Ivan Dodig and Antonio Veic, with the hope that Djokovic will have a chance to win Serbia's first quarterfinal on Sunday against Cilic.
Argentine star David Nalbandian, playing his first competitive match since mid-April, defeated No. 6-ranked Nikolay Davydenko 6-4, 7-6 (5), 7-6 (6), improving his Davis Cup record to 30-9.
Mikhail Youzhny, who hasn't lost a cup singles at home for five years, dispatched inexperienced Leonardo Mayer 6-3, 6-1, 6-4.
Russia has won 17 successive home ties since 1996, and never lost to Argentina at home, but Teimuraz Gabashvili and Igor Kunitsyn were expected to have their hands full against Nalbandian and Horacio Zeballos in Saturday's doubles.
The Czech Republic, last year's runner-up to Spain, will expect to secure its semifinals berth on Saturday after winning both opening singles without dropping a set on the clay in Coquimbo.
Ivo Minar earned his first win in Davis Cup when he beat Chile's former Olympic champion Nicolas Massu 6-0, 6-2, 6-3, and Jan Hajek earned his second at the expense of Paul Capdeville, 6-0, 6-2, 6-1.
The Czechs' usual team of Tomas Berdych and Radek Stepanek was sidelined by injuries, but the performances of Minar and Hajek have bolstered their confidence of ending their first visit to Chile with a win.
Lukas Dlouhy and Frantisek Cermark, both ranked top 20 in doubles, can squash Chile hopes of a first semifinal since 1976 in the doubles against Capdeville and Jorge Aguilar.
Filed under:
Tennis
Tags:
Chile
,
Croatia
,
Czech Republic
,
Eastern Europe
,
Europe
,
France
,
Latin America And Caribbean
,
London
,
Men's Tennis
,
Rafael nadal
,
Serbia
,
South America
,
Spain
,
United Kingdom
,
Western Europe