Juan Manuel Marquez Vs Juan Diaz: Juan Manuel Marquez Wins
By Reema, Gaea News Network
Sunday, August 1, 2010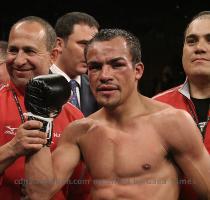 more images
LAS VEGAS (GaeaTimes.com)- The Saturday night fight between Juan Manuel Marquez and Juan Diaz at Mandalay Bay Events Center turned out to be an interesting one with the former taking to the squared ring for the first time after his defeat in September 2009 against Floyd Mayweather. Juan Manuel Marquez came up with some amazing moves and punches and was able to hold on to the WBA and WBO lightweight titles with the unanimous decision turning on to his favor. Juan Manuel Marquez is now looking for a combat with Philippines' Manny Pacquiao.
On Saturday night, Juan Manuel Marqueze faced some early punches from Juan Diaz. The latter made some adjustments and was able to bruise the right eye of his opponent. Juan Manuel Marqueze on his part delivered some uppercuts with the left hand. While there is no denying the fact that Juan Diaz delivered some brilliant shots; he failed to come forward with a knock out shot or a shot that might have turned the game in his favor. It was towards the end of the fourth round that Juan Manuel Marqueze came forward with a shot that left Juan Diaz wobbling on the ground. Although the shot did not end the game, it visibly changed the way of attack applied by Juan Diaz in the rest of the rounds. Towards the end of the game Juan Manuel Marqueze had delivered 288 punches while Juan Diaz managed only 155. At the end of the game the unanimous decision of the judges (116-112, 118-110 and 117-111) went in favor of Juan Manuel Marqueze.
Juan Diaz said to media sources that he had intended to set a more measured pace but his plans were marred by his opponent. However, he maintained that he had put forward his best in the play adding at the same time that Juan Manuel Marqueze is a great fighter.