Jacksonville State Football Team Wins Over Ole Miss
By Reema, Gaea News Network
Sunday, September 5, 2010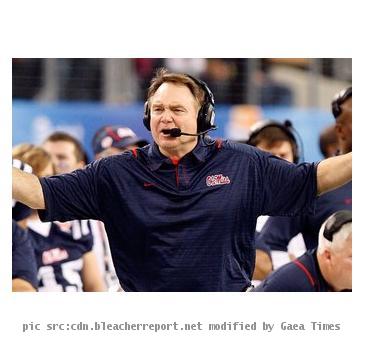 more images
OXFORD (GaeaTimes.com)- Perhaps there is not a single person who will disagree to the fact that the Saturday season opening game between Jacksonville State University and the Mississippi State University football team turned out to be one of the most interesting season opening game. Both the teams kept their best foot forward and it was evident from the play which at one point seemed never ending. However at the end it was Jacksonville State football team that cheered loud to celebrate its close margin, 49-48, victory over the Mississippi State University team.
It was a close the call. While at the beginning of the game it was University of Mississippi team that went on for a lead with Jacksonville State trailing behind. At halftime the Jacksonville State was at 10 while Ole Miss team was leading at 31. However, the game scenario took an altogether different turn after the half-time. In the second half of the game it was Jacksonville State team that went on for an impressive play and scored 21 while the Ole Miss managed only 3. The tie of scores then forced to overtime. However, it took a double overtime for the game to come to a conclusion.
The game turned in favor of Jacksonville State team in the last moment of the second overtime. As quarterback Coty Blanchard lofted a 2-point conversion pass towards the end zone, running back Calvin Middleton teared his way out of a mass of bodies to get the football right on time to the end zone. The 2-pointer sealed the victory ultimately in favor of Jacksonville State team which is a Football Championship Subdivision team from the Ohio Valley Conference.