After slow start, Nadal beats Verdasco in 3 sets to reach 3rd consecutive US Open semifinal
By Howard Fendrich, AP
Thursday, September 9, 2010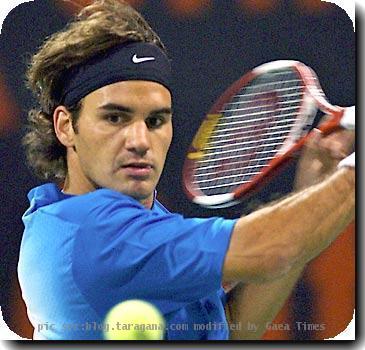 more images
Nadal beats Verdasco to reach US Open semifinals
NEW YORK — At the start, Rafael Nadal would say later, he was "scared" by the wind.
He actually lost a service game. After one error, he slapped himself on the thigh. After another, he put his hands on his hips and stared at the spot where his shot went awry.
By the end, Nadal was as good as ever, even hitting a spinning, no-look, half-volley as he moved one step closer to the only Grand Slam title he hasn't won.
The top-seeded Nadal quickly figured out how to handle the wind that has plagued the tournament, got his serve in gear after being broken for the only time in five matches, and beat No. 8 Fernando Verdasco 7-5, 6-3, 6-4 Thursday night in the first all-Spanish quarterfinal in U.S. Open history.
Now Nadal heads to a third consecutive semifinal at Flushing Meadows. He lost in that round to Andy Murray in 2008, and to eventual champion Juan Martin del Potro in 2009; he never has been to a U.S. Open final.
"Right now, for me, it's a very, very nice feeling to be in (the) semifinals for the third time in a row, for one of the most important tournaments in the world," Nadal said in an on-court interview. "For me, probably right now, the most important."
That's because he is trying to complete a career Grand Slam at age 24 by earning a U.S. Open trophy to put alongside the eight total he owns from the French Open, Wimbledon and Australian Open.
On Saturday, Nadal will face 12th-seeded Mikhail Youzhny of Russia for a spot in the final.
"For me, being in the semifinals is amazing," Nadal said, "but I have to keep going and keep playing better if I really want to have chances to be in the finals."
In Saturday's other semifinal, No. 2 Roger Federer will face No. 3 Novak Djokovic; they won their quarterfinals Wednesday. Federer owns a record 16 Grand Slam titles, including five at the U.S. Open, and has faced Nadal in at least one final at each of the three other major tournaments.
"For sure, Roger is the favorite," said Nadal, who has won his last 19 Grand Slam matches, including titles in 2010 at the French Open and Wimbledon.
As was the case for many matches in recent days, the wind was swirling inside Arthur Ashe Stadium. During Nadal's 11th victory in 11 career matchups against Davis Cup teammate Verdasco, it regularly topped 15 mph, with gusts reaching 25 mph, and the temperature — consistently in the 90s in Week 1 — dipped to 65 degrees.
"I started very scared, when I was playing with the wind, and against the wind, too," Nadal said. "I was playing too aggressive, because I was scared."
Neither player seemed pleased by the conditions, and Verdasco looked up at his guest box in the second game after hitting one of his six double-faults.
"It was very difficult even to make the toss of the ball," Verdasco would say later.
In the third game, he played some terrific sliding, stretching defense during a 20-stroke exchange he capped with a backhand passing winner to earn a break point. He converted that — ending Nadal's streak of consecutive holds in New York at 62. But Verdasco never got another chance to really rattle Nadal, who has won all 15 sets he's played at this U.S. Open and 76 of 77 games he's served.
In the very early going, Verdasco played the brand of point-extending, opponent-dispiriting defense that Nadal is so well-known for. But Nadal broke back to get to 4-all, thanks to Verdasco's two double-faults in a row, and suddenly was seeming more and more comfortable.
Nadal broke Verdasco for a second time in the last game of the opening set thanks to a volley winner at the end of a 20-stroke exchange. By late in the third set, Nadal was pulling out all the tricks, even that spectacular half-volley when he put the racket on the ball with his back to the net.
Youzhny's only previous trip to the semifinals at any Grand Slam tournament came at the 2006 U.S. Open, and he made it there by upsetting Nadal in the quarterfinals.
"It's another time, and I'm, like, another player," Youzhny said. "I cannot say I am (a) better player now, but it's another time and other opponent, so everything can happen."
He hit fewer aces and fewer winners, needed treatment on his right foot in the fifth set — and still managed to come back and beat No. 25 Stanislas Wawrinka of Switzerland 3-6, 7-6 (7), 3-6, 6-3, 6-3 in four hours earlier Thursday.
"Maybe I was just a bit luckier than him," Youzhny said.
The last time Nadal and Verdasco met at a Grand Slam tournament, in the 2009 Australian Open semifinals, they set a tournament record by playing for 5 hours, 14 minutes. Thursday's match lasted less than 2½ hours, in part because Nadal played so cleanly, making only 16 unforced errors; Verdasco made 41.
Verdasco called it "impossible" to play the aggressive tactics he needs to use "to have chances to beat Rafa."
The outcome basically was settled in the sixth game of the second set, when Nadal broke to lead 4-2 with a delicate-as-can-be drop volley that Verdasco barely reached and couldn't get in play. Nadal jumped and punched the air and had to know there was no longer any chance of the sort of upset Youzhny pulled off four years ago.
Nothing seemed to rattle Youzhny on Thursday. He dealt with a deficit, a problem with his right foot, and the wind that made it tough to control strokes — Wawrinka made 71 unforced errors, Youzhny 57. That helped Youzhny overcome Wawrinka's advantages in aces (13-2) and winners (48-35). Both men won 154 points.
Youzhny also never was rattled by all the noise going on near the court as Wawrinka was supported exuberantly by his entourage. On pretty much every significant point won by Wawrinka, the black-clad, sunglasses-wearing bunch in his guest box would stand up, applaud, yell and trade fist bumps. The celebrations were led from the front row by Wawrinka's coach, Peter Lundgren — who used to work with Federer and helped him win his first Wimbledon championship.
Now everyone will be thinking past the semifinals in New York, and looking forward to Sunday's final, and the tantalizing prospect of No. 1 Nadal vs. No. 2 Federer, with another major championship on the line. They have played in seven Grand Slam finals — three at Wimbledon, three at the French Open and, most recently, at the 2009 Australian Open — with Nadal holding a 5-2 edge.
Even Verdasco was looking ahead, predicting a Nadal-Federer final — and picking his fellow Spaniard to lose.
"If I had to bet here, I will be for Roger," Verdasco said. "He won five times here, and he likes these conditions."
First, of course, Federer must beat Djokovic, and Nadal must beat Youzhny.
Asked if he'll try to be a spoiler, Youzhny replied: "Yeah, I'm ready to be bad person. I love to be bad person in this case."
Filed under:
Tennis
Tags:
Australian Open Tennis Championships
,
Events
,
French Open Tennis Championship
,
Men's Tennis
,
New York
,
New York City
,
North America
,
Queens
,
Rafael nadal
,
Roger federer
,
U.s. Open Tennis Championship
,
United States
,
Us open
,
Wimbledon Championships