Bopanna-Qureshi duo through to St. Petersburg semifinals
By ANI
Friday, October 29, 2010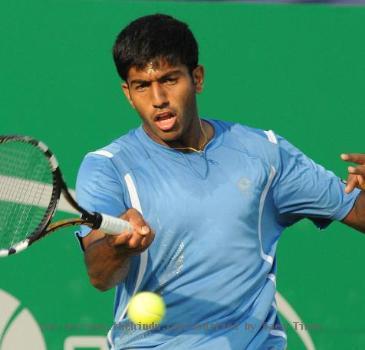 ISLAMABAD - The tennis duo comprising Aisam-ul-Haq Qureshi of Pakistan and Rohan Bopanna of India have entered the semifinals of St. Petersburg ATP World Rating Tennis Championship.
The 'Indo-Pak Express' recovered from the brink of defeat to put it across the Serbian pair of Viktor Troicki and Janko Tipsarevic, the Dawn reported.
The Serbs, who had defeated the Asian duo in the Kremlin Cup quarterfinals last week, bombarded huge baseline winners from the beginning, and went on to take the first set 6-3.
However, Bopanna-Qureshi made a spirited comeback in the second set by employing aggressive tactics and breaking Tipsarevic's serve at 1-1 to take a 2-1 lead. Qureshi held his next service game and consolidated the lead to 3-1.
At 4-3 up, however, the momentum shifted the Serbs' way, who held their own serve and went 5-4 up. Bopanna's strong serves put his team 40-15 up but a missed volley and a great passing shot brought them to a match-point down at 40-40. The lanky Indian missed his first serve but went on to hit an excellent second serve down the middle, which evaded Troicki and Bopanna-Qureshi were back on level at five-all.
Under pressure from the fighting South Asians, Tipsarevic faltered in his service game but fought back to make it 6-5 for the Serbs. Equal to the task, Qureshi held his serve in the next game to make the score 6-6 and force the set into a tiebreak.
The first point of the tie-break went in Bopanna-Qureshi's favour but being unable to retain the lead, they were soon serving at 2-1. The Serbs took the next two points to make it 2-3 and then took another point on Qureshi's for a 4-2 lead. However, the Asian duo took next five points in a row to win the second set tie break at 7-6 (7/4).
The US Open finalists went on to win the super tie break at 10-1, thus sealing their victory in one hour and 25 minutes with the help of six aces, against three by their opponents. Their first-serve percentage was 73 per cent against 69 per cent by their opponents.
The second-seeded Indo-Pak Express now face third seeds Filip Polasek and Igor Zelenay of Slovakia in the semifinals. (ANI)