JaMarcus Russell's Workout with Redskins
By Avik, Gaea News Network
Tuesday, November 2, 2010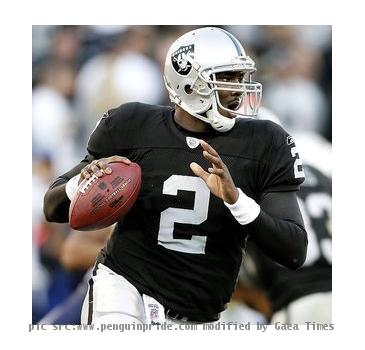 more images
Post quarterback Donovan McNabb being benched by Mike Shanahan owing to the the feeling that his quarterback was not in good enough shape to run a two minute drill in the loss to the Lions on Sunday, the former Oakland Raiders successful and well famed quarterback JaMarcus Russell worked out with the team on Tuesday.
Infact this is quite within the expectation out of the Redskins who have made it a habit of inviting in their players for workouts on Tuesdays. Well, if counted upon, the timing may very well storm your mind with thoughts such as Shanahan is now unhappy with McNabb, especially after benching him in favor of Rex Grossman with the game on the line on Sunday. What Grossman did was to promptly fumble the ball away which was picked up and much to the team's ill fate run in for a touchdown by the Lions for the game clinching score.
Kyle Shanahan - the coordinator who is known for being offensive stated that the team had plenty of players running in for a workout including Russell.
Shanahan remarked,
We'll evaluate him and everyone else out there
Though Kyle Shanahan tends to like Russell's talents, but he also thinks that its not the sole criterea for evaluation. According to him,
I don't think you consider anyone just based off of talent, Everyone in the NFL's pretty talented. Other stuff that really separates you. He is very talented, so I think he can overcome some of the stuff that he struggled with. I don't really know that personally, but if he looks like he's in good shape out here and he's working, and that's all you can evaluate. Sometimes when guys do get a second opportunity, they can change their stripes.