Brad Childress Fired From Minnesota Vikings
By Naiwrita Sinha, Gaea News Network
Tuesday, November 23, 2010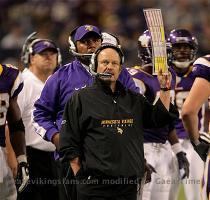 SAN FRANCISCO (GaeaTimes.com)- It is a time for losses, not only for the team, but also for the coach, rather the 'ex-coach'. The Minnesota Vikings coach Brad Childress was fired on Monday. This incident was quick to pop up just after the team's loss to its rivals Green Bay Packers on Sunday.
The Minnesota Vikings had lost Sunday's match in their home ground to the opponent team of Green Bay. After seeing the results, it would even be less humiliating if the loss was termed s plain disastrous. The results were apparently shocking. The Minnesota Vikings had lost the match by 31-3! Unbelievable as the results may be, but not the news of the firing. The whole game was marred as claimed both experts and audience, who were present to witness the game. According to a source, team owner Zygi Wilf, team president Mark Wilf, his brother met Brad Childress early on Monday morning. The announcement came shortly after this. It is quite obvious that after such abrupt and disastrous results of the team's performance on the previous day, there would be some kind of immediate reaction from the team's side. Rumors have it, that soon after the game had ended, speculations were going on that the coach would be fired.
However, as expected Brad Childress's loss has resulted in some body else's gain. It is none other than defensive coordinator Leslie Frazier. Leslie Frazier is supposed to be the team's interim coach for the rest of the season. This is not the first time a NFL coach has been fired. Earlier Wade Phillips of Dallas had also experienced the same thing. However, Brad Childress in his statement said that he believes that he has made the team stronger than what it was at the time of his joining.