Peter Siddle 'unfazed' despite Hilfenhaus's imminent return
By ANI
Tuesday, January 19, 2010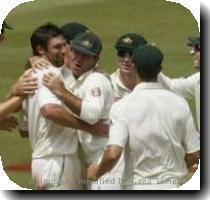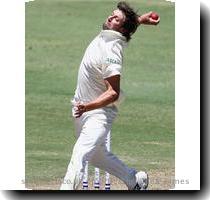 HOBART - Australian fast bowler Peter Siddle has said that he is not worried by possible return of fellow quickie Ben Hilfenhaus for the upcoming tour of New Zealand, saying that he is in the best form of his Test career.
Siddle stands as the player to lose if Hilfenhaus overcomes his lingering knee problems in time for the two-Test series starting March 19.
The 25-year-old answered his critics, who claimed that he was a one-dimensional bowler, by taking 2-39 and 3-25 in the third Test against Pakistan in Hobart.
"This series I have bowled better than any other stage in Test cricket. The wickets weren't there throughout the series but that will happen plenty of times. I have to be patient and stick to the basics," Fox Sports quoted Siddle, as saying.
"It hadn't been coming but it was good this match to get a few wickets under my belt, it's always pleasing. I haven't done a thing different at all, it's always the same thing … you just stay patient, the basics. That's all I had to keep doing," he added.
Skipper Ricky Ponting had also stressed before the third Test that Siddle had bowled well throughout the summer, complementing Bollinger and Mitchell Johnson, but lacked luck.
After 17 Tests, Siddle now has 60 wickets at 31.53, while his Hobart performance saw him jump 11 places in the ICC Test bowling rankings to be 19th in the world.
While Johnson will be rested from the first two matches of the one-day series against Pakistan, starting on Friday at the Gabba, Siddle isn't putting his hand up for a spell on the sidelines.
"Playing as much cricket and as much continuous cricket as I can is the best way forward for me, and the best way to stay in form and get good rhythm through the crease when I'm bowling," Siddle said.
"I just want to keep playing for Australia, just keep continuing to perform and keep helping the side to victories," he added.
Hilfenhaus is hoping to return to action next month and has several Sheffield Shield matches for Tasmania to prove his fitness. (ANI)