Roger Federer comes up short again in second straight Grand Slam
By Stephen Wilson, AP
Thursday, July 1, 2010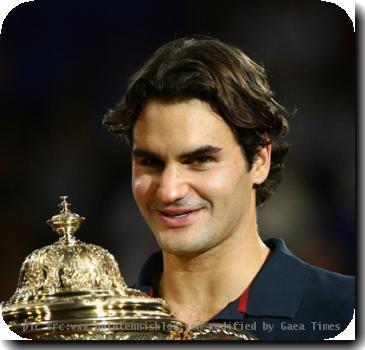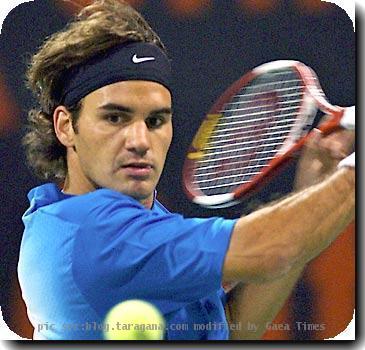 Federer falters again in Grand Slam quarters
WIMBLEDON, England — After back-to-back quarterfinal losses at the French Open and Wimbledon, Roger Federer is suddenly no longer the Grand Slam certainty he used to be.
For the first time in eight years, Federer won't be striding onto the Centre Court grass on Sunday afternoon for the final at the All England Club. He won't even be playing in Friday's semifinals.
After a run of seven straight Wimbledon finals and six titles, Federer was eliminated in the quarterfinals Wednesday by hard-hitting Tomas Berdych of the Czech Republic.
Struggling with what he said was pain in his back and right thigh, the defending champion was outplayed 6-4, 3-6, 6-1, 6-4 by the 12th-seeded Czech on the court he has called home for much of the decade.
Since winning his 16th Grand Slam title in Australia in January, Federer has not been the usual Federer. He hasn't won a single tournament and was beaten by Robin Soderling in the quarters in Paris, where he was the defending champion.
"Quarters is a decent result," Federer said in a comment that would have seemed unthinkable not long ago from a man so used to winning or playing in finals in every tournament he plays.
"Obviously people think quarters is shocking, but people would die to play in quarterfinal stages of Grand Slam play. It's not something I'm used to doing, losing in quarterfinals, because it's not something I've done in the last six years."
Federer will have to wait another year to try to equal Pete Sampras' record of seven Wimbledon titles. Not only that, he will drop to No. 3 in the ATP rankings next week for the first time since Nov. 10, 2003.
"I can't wait for Paris and Wimbledon to come around next year again, that's for sure," Federer said.
This is the first time since 2002 that Federer has failed to reach the final at Wimbledon. Since losing in the first round to Mario Ancic eight years ago, Federer had played in the championship match a record seven consecutive times — losing only to Rafael Nadal in 2008.
After winning 23 straight Grand Slam quarterfinals, Federer has now lost two in a row. After winning 76 of 77 grass-court matches dating to 2003, he has now lost two of the past six, including to Lleyton Hewitt in Halle, Germany, the week before Wimbledon.
Inevitably, questions will be asked about whether the 28-year-old Federer is past his prime.
"Of course when you get older and you've accomplished what Roger has, at some point, the guy's a human being, he's going to have to sort of face the fact that he's not going to win these things and that he may never win another thing," three-time Wimbledon champion John McEnroe said.
But McEnroe noted that many people had written Federer off after he lost his Wimbledon title to Nadal in that epic final two years ago. Federer came back to win four majors, completing a career Grand Slam at the French Open, regaining his Wimbledon crown and breaking the all-time record for Slam titles.
"So to write anyone off that's accomplished that is stupid," McEnroe said. "But of course, at the same time, at some point, it's inevitable that it's going to happen."
The women's semifinals are set for Thursday. First up is 21st-seeded Vera Zvonareva against 82nd-ranked Tsvetana Pironkova of Bulgaria, followed by top-ranked and three-time champion Serena Williams against 66th-ranked Petra Kvitova.
Federer looked vulnerable from the start of the tournament, having to rally from two-sets-to-one down against unheralded Colombian Alejandro Falla in the opening round.
After Wednesday's loss, Feder said his thigh and back have been bothering him since the Halle tournament. He hadn't previously mentioned any injury problems.
"It's painful, it's uncomfortable," he said. "On defense, I feel it more. The legs are not as strong. You're, I wouldn't say scared, but you play differently. When you really need a passing shot on the run, you know it won't work. Even if physically you could do it, you don't believe enough in your body."
Berdych said he didn't notice anything wrong with Federer.
"I don't know if he is just looking for some excuses after the match or something like that," he said. "I think he was 100 percent ready."
Federer said he will take two weeks off to rest and receive physiotherapy, then start preparing for the hard court season in the U.S.
He offered some credit to Berdych — but didn't go overboard in praising him.
"It's not that he didn't do anything to beat me," Federer said. "I could still serve 205, 210 (kph) (127-130 mph) the whole way. My stats weren't that bad. It was just on the important points, he made everything and I didn't make many."
Federer came in with an 8-2 career record against Berdych, having lost the first match at the 2004 Athens Olympics and the last in Miami this year.
The 6-foot-5 Czech punished Federer with first serves consistently in the 130s mph, controlled points with his flat forehand and didn't buckle under pressure. He hit 51 winners, compared to 44 for Federer.
"Not many other moments can compare to this one," said Berdych, the first Czech to reach the men's semifinals since Ivan Lendl in 1990. "Standing on Centre Court here in Wimbledon, beating the six-time champion here. It couldn't be better. But there is still one match to feel better feelings than this one. I hope I can get to that."
Berdych will meet No. 3 Novak Djokovic for a spot in the final, with Nadal facing No. 4 Andy Murray in the other semifinal. Nadal leads Murray 7-3, while Djokovic is 2-0 against Berdych.
Murray, who beat Jo-Wilfried Tsonga in four sets, is bidding to become the first British player to win the men's title at Wimbledon since Fred Perry in 1936. No British man has even reached the final since Bunny Austin in 1938.
"Winning a Grand Slam is obviously why you play the game," said Murray, who has been growing a beard for luck during the tournament. "Obviously to win the first one here would make it extra special. But I'm a long, long way from doing that. Six sets away, and have to beat the No. 1 in the world if I want to have a chance of doing that."
Filed under:
Tennis
Tags:
Czech Republic
,
Eastern Europe
,
England
,
Europe
,
Events
,
France
,
French Open Tennis Championship
,
Men's Tennis
,
Paris
,
Rafael nadal
,
Roger federer
,
Serena williams
,
Ten-wimbledon
,
Tsvetana pironkova
,
United Kingdom
,
Western Europe
,
Wimbledon
,
Wimbledon Championships
,
Women's Sports
,
Women's Tennis