Federer beats Fish for Cincinnati Masters championship, tieing Borg for 5th in career titles
By Joe Kay, AP
Sunday, August 22, 2010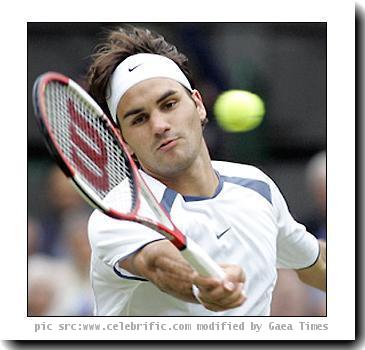 more images
Federer beats Fish for Cincinnati title
MASON, Ohio — Roger Federer ended his mini-vacation with another Masters title.
A well-rested Federer beat American Mardy Fish 6-7 (5), 7-6 (1), 6-4 on Sunday, winning his fourth Cincinnati Masters championship overall and his second straight. He was barely on the court all week because his opponents got hurt and his game was so good.
For the first time, the world's second-ranked player was pushed to the limit. Fish kept it as close as could be, dropping the final set after the match's only service break.
Federer ended a streak of three straight losses in tournament finals, winning his first Masters event since Cincinnati last year. His 63rd career title tied Bjorn Borg for fifth place in the Open Era. Pete Sampras is fourth at 64, and Jimmy Connors holds the record with 109.
It took him 2 hours, 40 minutes to close it out — an eternity compared to how the rest of the week had gone.
Credit Fish for making him sweat one out.
The American had surgery on his left knee last September, then set about rebuilding his body. He changed his diet, lost 30 pounds and gained a lot of speed on the court.
This Fish can fly.
His agility allowed him to extend points and keep up with Federer, who was clearly fresher. Federer lost to Andy Murray in the title match at Toronto last Sunday, came to town and got a mini-break. He was on court for only 28 minutes in his opening match before Denis Istomin hurt his ankle. Federer didn't even have to leave the locker room to advance a day later. Philipp Kohlschreiber dropped out because of a sore shoulder.
Federer sailed through his next two matches, winning each in two tidy sets. Fish provided his first real test.
The 28-year-old American is on the best stretch of his career, going 17-2 since July with titles at Newport and Atlanta. He'd won five in a row against top-10 opponents, gaining confidence with each upset.
Three games into the title match, Federer knew this one wouldn't be easy.
With Fish serving, the third game dragged on for 13 minutes — nearly half as long as Federer's opening match — and 24 points. Fish fought off a pair of break points before holding serve with an ace.
Fish's serve had been at its best all week. He'd served 70 aces and had won 85 percent of the points off his first serve, the best in the tournament. He struggled with it early but hung in there, extending the opening set to the place where he's been best — a tiebreaker.
Fish is 18-5 in tiebreakers this season, showing a lot of confidence when it comes down to a few pressure points. Federer got up 5-4 in the tiebreaker and was serving the next two points with a chance to close it out.
Instead, Fish hit an overhead winner and Federer dumped a backhand into the net. Fish then finished it off with a 126 mph serve.
It was the first set that Federer lost during his brief week on court. It lasted 70 minutes — as long as Federer's semifinal match on Saturday night.
The second set was even tighter, with Federer fighting off the only break point. He was more aggressive in this tiebreaker, coming to the net to take control, then closing it out with a 122 mph ace.
Federer got the only service break of the match to go ahead 5-4 in the final set.