Nate Davis' Performance Not Impressive?
By Reema, Gaea News Network
Monday, August 23, 2010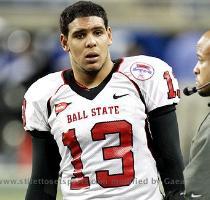 more images
more images
SAN FRANCISCO (GaeaTimes.com)- On Sunday, although San Francisco 49ers quarterback Nate Davis went to add to the score of the team that defeated the Minnesota Viking in a 15-10 preseason game, the player faced the wrath of coach Mike Singletary who seemed unimpressed with the player's performance. Although there is no denying the fact that Nate Davis failed to live up to the expectation of his fans, many of whom dream of him leading the quarterback area in the future, few would disagree to the fact that his Sunday night's performance against the Minnesota Vikings was not that much unimpressive.
The San Francisco 49ers' hope and expectation from Nate Davis has escalated after his impressive performance in some earlier games. On Sunday, Nate Davis went 7 for 16 for 114 yards but failed to have touchdowns or interceptions during his stay on the field against the Minnesota Vikings. Mike Singletary in a post match news conference termed the play as full of "ups and downs". He blamed that the present condition of Nate Davis was due to lack of practice.
Mike Singletary held that it is expected of an NFL quarterback that he would be seen spending the springs and the summer months in camps trying to improve his play. However, he added that he is uncertain how much hard work Nate Davis has put during that time of the year. It was quite clear that the coach was hitting at Nate Davis' absence from minicamps and organized team activities. Although Nate Davis has been putting a lot of efforts to hone his talent at present, the coach said that he is unsure how much the efforts will help the team.