Rashard Mendenhall's Arm Suffered No Injury
By Reema, Gaea News Network
Saturday, August 28, 2010
more images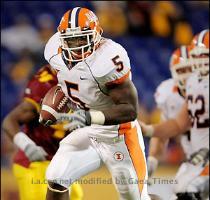 more images
PITTSBURGH (GaeaTimes.com)- On Friday rumors went round the American football community and the web that Pittsburgh Steelers' Running Back Rashard Mendenhall has broken his arm and is undergoing tests and treatment for the same. Rumors also claimed that Rashard Mendenhall suffered the injury during the team's practice session. The rumor however did not mention which arm of the player had suffered the injury or how severe the injury was. Later on Friday, the rumor was discarded by both the agent of the player and the management of the Rashard Mendenhall team.
The agent of Rashard Mendenhall said to media sources that the Running Back has not broken his arm and that he is doing fine. The Pittsburgh Steelers' public relations department also confirmed to media sources that the present information doing round the internet is just a rumor that has no base to support it. The department held that it has spoken to the player personally and that Rashard Mendenhall has confirmed that he is doing fine and will play for the Pittsburgh Steelers on Sunday against the Denver Broncos.
Some media sources claim that the rumors spread over the internet perhaps because Rashard Mendenhall was found undergoing some tests on his arm. It is most likely that the stories of Rashard Mendenhall suffering a broken arm started doing round over the internet for this particular reason. However, on Friday the player left the practice session in good health with no apparent injuries. It is only after his appearance in the Sunday night game between the Pittsburgh Steelers and Denver Broncos that one can shut the mouths of the rumor mongers.