Mark Ingram's Knee Injury Casuses Concern for Alabama Crimson Tide
By Turjo, Gaea News Network
Tuesday, August 31, 2010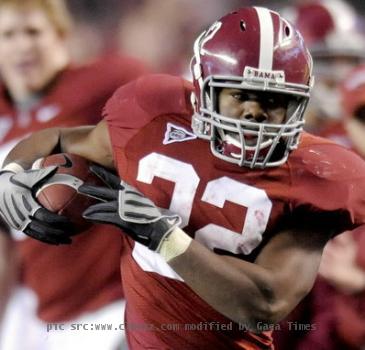 more images
NEW YORK (GaeaTImes.com) — The Alabama Crimson Tide's Heisman-winning tailback Mark Ingram is reported to be down with a knee injury on Monday. This is going to keep him out of Saturday's opener against San Jose State.
Alabama is counting on touted sophomore Trent Richardson to fill up the temporary vacume which Ingram's absence has created. Ingram has been praising Richardson throughout the preseason, talking about how the two make each other better in practice.
Although Albama is expected to get an easy win against San Jose State, Ingram's absence might cause some serious problem later on. No wonder coach Nick Saban wanted to get the medical procedure for Ingram taken care of as quickly as possible. He commented that,
We will make every decision in the future based on what's best for Mark and his career. This is not an injury that will affect Mark's future ability to make a full recovery in a relatively short time frame.
So, the temporary loss of Ingram shouldn't affect Alabama's national championship hopes very much, as long as he returns by at least the Arkansas game.