Nike Pro Combat Uniforms: Ultimate In Football Jerseys
By Shaon, Gaea News Network
Wednesday, September 1, 2010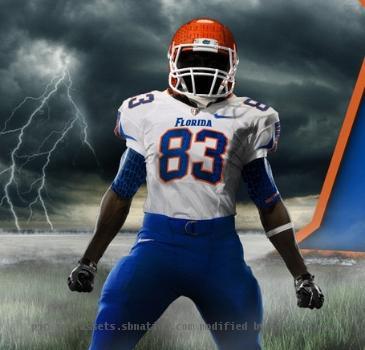 more images
BEAVERTON (GaeaTimes.com) — The recently unveiled extra performance Nike Pro Combat Uniforms for the elite college programs is creating a lot of buzz. The new innovative light-weight and flexible design aims to provide unparalleled protection and movement for the athletes on-field. Each dress has been designed to highlight the core culture and values of the teams involved. The striking feature about the uniforms seems to be its vivid color.
The lead designers of Nike did extensive research regarding the past and the present status of the teams. They also considered the bigger picture each team was striving for. Thus the uniforms would be the flag bearers of the teams identity even before they take the field. Lets have a look at the design feature of each uniform.
Alabama : Think Alabama, Think the legendary coach Paul "Bear" Bryant. The Houndstooth pattern of the uniform never lets anyone forget the kind of influence on the team The "Bear" had.
Boise State : The Game Royal Bronco Head talks to you about the iconic Blue Turfed Bronco Stadium
Florida: The Aligator print all over the uniform reminds you of the teams icon. It resembles the ferocity with which the Florida Team would take the field.
Miami: The Tonal Fir Palm Frond print reminds you of South Florida.
Ohio State: Designed as a tribute to the Buckeyes bound for WWII, the Us flag on the sleeve never misses a beat.
Oregon State: Goes into retro mode with the jersey resembling that worn by the "Giant Killing" 1967 Team.
Pittsburgh: Pittsburgh is noted for its steel, so how could you expect Nike to omit the Gold jersey numbers or the stencil stripes on the helmet.
TCU: An Icy Reptile pattern resembles the mascot of the team ala the Horned Frog.
Virginia Tech: In remembrance of the original Virginia Tech Football team the new jersey sports am All-Black look.
West Virginia: The headlamp like pattern on the helmet and a smudged Black pattern would remind every one of Virginia's famed Coal industry.
The visual aspect is not the only thing striking about the Nike Pro Combat uniforms overhaul. The uniforms were designed quite unconventionally. The design started with the padded base layer and then fabric was worked on it. The fabric used is a four way stretch that will dissipate the slightest instance of water or sweat in the body. The new designs have been made 37 percent lighter than its predecessors. At the same time no compromise has been made on the safety of the athletes involved.