Tigers, QB Parker look to connect with new pass catchers this week at No. 16 Auburn
By Pete Iacobelli, AP
Wednesday, September 15, 2010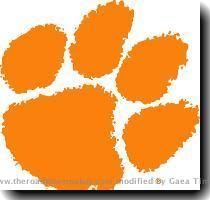 Clemson's young receivers ready for big test
CLEMSON, S.C. — Clemson gets the chance this week to show if it can still throw the football.
The Tigers (2-0) won the ACC's Atlantic Division last year in part because of a lively passing attack. However, the team's three leading receivers from that squad — Jacoby Ford, Michael Palmer and C.J. Spiller — are in the NFL and Clemson has yet to be pushed in wins over North Texas and Presbyterian.
That trio accounted for over 60 percent of Clemson's receptions and touchdown catches last fall.
Clemson faces on Saturday No. 16 Auburn (2-0), which is third in the Southeastern Conference in rush defense but in the league's bottom half against the pass. It's Clemson's first visit to Auburn since 1971.
Clemson coach Dabo Swinney says it's critical for his team's young receivers to give quarterback Kyle Parker good targets. He says he's not sure what'll happen to his inexperienced players when the lights turn on at Jordan-Hare Stadium and around 90,000 fans are pulling against them.
"We haven't had the ball a whole lot and haven't been challenged from a passing game standpoint," Swinney said. "We've had some very big plays in the passing game, but that game where we go and have to throw it 30-35 times, it's coming."
Tight end Dwayne Allen believes Clemson's young players are ready for that kind of challenge. He's tied for the team lead with three catches and is among seven Tigers with a TD catch this season.
In both of its wins this season, Clemson used its rushing attack — led by experienced backs Jamie Harper and Andre Ellington — to gain quick control. Allen is glad for his role in opening holes, but he says he and the rest of the receivers are ready for bigger things.
"I've been eager for the opportunity to showcase my talents and really contribute," said Allen, a 6-foot-4, 255-pound sophomore.
Auburn is decidedly better this season stopping the run than the pass, having allowed only 80 yards on the ground. But they've given up nearly three times that much (226 yards) through the air in wins over Arkansas State and Mississippi State.
Defending Clemson's run game is important, Auburn coach Gene Chizik said. But it's also a mistake not to pay attention to Allen and tall, rangy wideouts like Brandon Clear, Jaron Brown and Xavier Dye.
"All of them are very talented, some fast guys out there," Chizik said. "That's problematic for any defense. Defensively, you look at them, their size and speed, what they bring to the table is a very physical brand of football."
Swinney, who was Clemson's receivers coach before he took over the team in the middle of the 2008 season, hasn't seen a lot of critical catches with the game on the line like Ford's 26-yard TD grab from Parker in overtime to end the Tigers' 40-37 game at Miami last October.
"I think they're making progress," Swinney said. "But it's a work in progress."
Clear, a 6-foot-5 junior, was the standout receiver against North Texas with his 70-yard catch and run for a touchdown. Allen led the way against overmatched FCS opponent Presbyterian with two catches for 66 yards, including a 19-yard TD pass from Parker. Brown also had an 8-yard touchdown reception to start Clemson's scoring.
Parker, Clemson's sophomore quarterback, was out of the game before halftime last week and may not come in as crisp as if he was forced to play throughout the game.
Regardless of Parker's conditioning coming into Saturday's game, Chizik wants improvement from his defensive backs.
"We got our hands on a couple of footballs we should have caught," said Auburn's coach. "Those should have been turnovers. Those are things we need to do make a difference back there."