Commonwealth Games Preparations Still Jittery
By Arnab Ghosh, Gaea News Network
Wednesday, September 22, 2010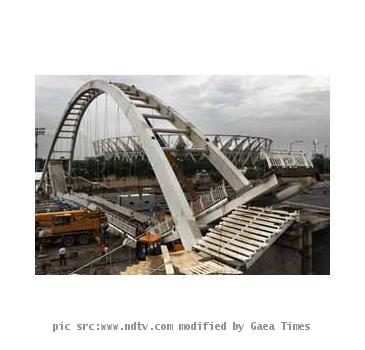 more images
NEW DELHI, INDIA (GaeaTimes.com)- Commonwealth Games which was an opportunity for India to showcase its achievements and developments to the world media has turned into a shame for the government! The footbridge collapse has caused major embarrassment for the government and the CWG organizers and a probe is being carried out to trace the reason. However, the government is more worried about the harsh criticism it has faced from the participating country delegates regarding the filthy condition prevailing in the athletes villages. The flak has prompted the Prime Minister of India, Manmohan Singh to intervene.
The shoddy preparations for the Commonwealth Games which is going to be a mega event involving 7,000 participants from more than 70 countries has left the government officials and organizing committee scrambling for excuses. Rakesh Mehta the Delhi Chief Secretary however tried to put up a brave face and said that the bridge would be built again before the game begins in the capital. Michael Fennell the CWG president is angry with the officials for their lackadaisical attitude and lack of promptness despite repeated orders to fix the glitches. Countries like Scotland, Canada, England and New Zealand have lashed out at the CWG organizers for the pathetic condition of the athlete villages.
The Commonwealth Games officials are trying to pass the buck and some have come up with lame excuses like such mismanagement is commonplace in organizing countries. It has not gone down well with the CWG President and Mike Hooper the CGF chief executive. The chef de mission of New Zealand team Dave Currie is also pretty upset with the fiasco.