Dan Hawkins Fired?
By Madhusmita, Gaea News Network
Tuesday, November 9, 2010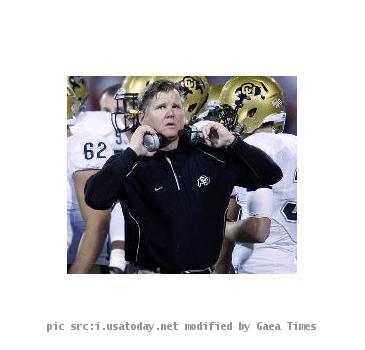 more images
DENVER (GaeaTimes.com)- It came as a shock to Colorado Buffaloes' fans when a reputed media source reported that the coach of the team Dan Hawkins has been fired from his post and Brian Cabral is expected to replace him from the next match. However, there is still no confirmation of the news yet. University of Colorado president Bruce Benson said that the whole news is a "rumor mill" and he said it is all figments of their imagination.
However, a source close to the team reportedly said that Dan Hawkins was fired Monday and he is expected to meet the team members and formally announce the news to the media. Former University of Colorado coach Bill McCartney said that his heart "hurts" for Bill McCartney and he gave his best to the team. Dan Hawkins joined Colorado Buffaloes five years ago, however, his team has not witnessed any winning season in the team in last five years. A source close to the team said that Dan Hawkins was in a meeting with the athletic director Mike Bohn last evening but the journalists could not find anyone for comments.
Though Dan Hawkins could not be reached on Monday night, he was available on a conference on Monday morning. At the conference he said that life makes no promises to people and neither it keeps any. The head coach said that the nature of job and his profession is that one should always take risks in order to shine. Dan Hawkins gave no indication that he would have to leave his job when he said that one has to do what his heart asks him to do and the person will have to do the job to the best of his ability to fetch good results. However, the media outlets are waiting for Dan Hawkins' comments regarding this matter.