Paul Williams Defeated By Sergio Martinez
By Reema, Gaea News Network
Sunday, November 21, 2010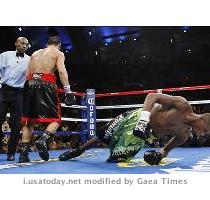 more images
ATLANTIC CITY (GaeaTimes.com)- It was a real thriller to watch the match between WBC title holder Sergio Martinez and challenger Paul Williams, as it was anticipated that the history would once again repeat itself. The memorable and one of the most rigorous bouts between the same two fighters that was held in December 2009, yielded a very controversial verdict where challenger Paul Williams had a narrow victory after 11 rounds. However, this match was expected to be a more exciting replica of the last match. However, it turned out to be less exciting, because the challenger was knocked down quite early.
The reason is ofcourse the zeal of Sergio Martinez to take a revenge for the last match. This match came to a conclusion in just four minutes when he knocked Paul Williams down in the canvas quite hard and tight. Even the referee felt no need to count him out as he was thrown on the floor with all strength. The promoter of Sergio Martinez said that it was one of the best knock out punches after the one by Roberto Duran and Thomas Hearns back in 1984. Sergio Martinez got a price money of $1,050,000 after the match, which according to many, is much less than what he deserves.
Sergio Martinez connected 30 percent of the punches, which is 23 of 76, while Paul Williams connected 31 percent of the punches, which is 33 of 105. The fighters made 56 combined connects, out of which 52 were power shots. The first round was won by Paul Williams on the score cards of two of the judges. Although the two fighters had a cutthroat competition in the first round, Sergio Martinez could push Paul Williams two times against the ropes, to be connected with some tough combinations, to finally knock him down.