Mike Haywood Makes History In Pittsburgh
By Naiwrita Sinha, Gaea News Network
Thursday, December 16, 2010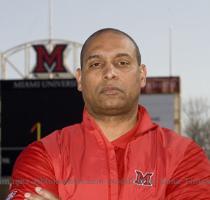 PITTSBURGH (GaeaTimes.com) The University of Pittsburgh have at last found their new coach. Their search with Miami-Ohio head coach Mike Haywood. Their search for new coach began after former head coach Dave Wannstedt resigned from Pittsburgh at the beginning of this month after continuing with them for six seasons. Ever since then the Pittsburgh football authorities had gone for an endless search for the post and ultimately got rest after hiring the first Afro-American coach for their team.
According to sources, on Wednesday Pittsburgh football team authorities are planning to introduce their new head coach Mike Haywood through a press conference which is likely to be held as early as possible. In all chances it will be held on today. An insider of the team revealed that the Afro-American coach has been hired for a deal of five years. However, nothing official has been announced with regard to the new deal. Right now there are a lot of speculations going on in the Pittsburgh camp. Buzzes are likely to continue until official announcements for the deal is being confirmed at the press conference supposed to be conducted today.
Mike Haywood has made history for himself after he earned the post of the head coach in the Pittsburgh team being the first African American individual. Speculations are still ongoing as to whether Mike Haywood will continue with his duty as the head coach with the Miami team when they will be playing against Middle Tennessee in the forthcoming GoDaddy.com Bowl. It is being said that after Dave Wannstedt's resignation, Mike Haywood was one familiar face to audition for the job. On Wednesday, he was summoned for another round of interview.