Randy Edsall Hired By Maryland Terrapins
By Naiwrita Sinha, Gaea News Network
Monday, January 3, 2011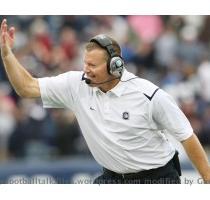 ANNAPOLIS (GaeaTimes.com)- After twelve long years it is now the time for
Randy Edsall
to bid adieu to the Connecticut Huskies and move on to his new team. Yes the head coach of the Connecticut Huskies has been freshly roped in by Maryland Terrapins as their new head coach. The Terrapins recently fired their head coach Ralph Friedgen who had been with them for almost a decade. Maryland's search for the new head coach began from around December 20, 2010. The news of the new head coach broke out last afternoon and undoubtedly is a shock for the Huskies.
After a hunt for almost near to two weeks their search ended with none other than the man behind the success of the Connecticut Huskies. Randy Edsall is well renowned for being a defense specialist and through the last several years guided the Huskies well to make them emerge into a winning team. The 52 year old coach is also the winner of many conference titles. According to reports a press conference today will be taking place at 2 pm where the official announcement of the news will be declared. The newly appointed head coach will be appearing along with Kevin Anderson, the athletic director of Maryland Terrapins.
Before making the final decision to hire Randy Edsall, Maryland Terrapins authority officials had to consider other names as well. A source from the Terrapins camp said that Maryland had also contacted Mike Leach, Rich Rodriguez, Chris Petersen, June Jones, Gus Malzahn. However, the offer finally went to the Huskies coach. Meanwhile Randy Edsall has already met many of the players and the assistant coaches of his new team at the Gossett Football Team House.