Gayatri Reddy Owns Deccan Chargers
By Reema, Gaea News Network
Monday, January 10, 2011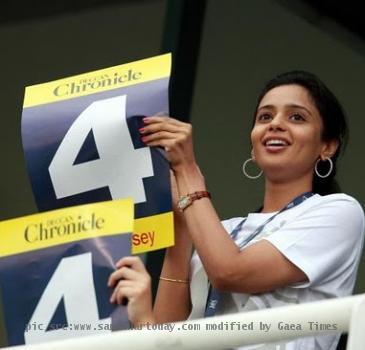 more images
BANGALORE, INDIA (GaeaTimes.com)- The Deccan Chronicle has once again got the bid of the Deccan Chargers for the 2011 IPL. As the bidding took place yesterday, in Bangalore, it was Gayatri Reddy, who was one of the main attentions in the bidding. The young lady has proved that she is not only the daughter of the media baron, T Venkattram Reddy, the owner of Deccan Chronicle, but also a responsible young business woman on the making.
Apparently, Gayatri Reddy worked really hard for the auction and now owns the set of players that she desired to. Without much back up from her father, she got the team on her own rights. Therefore, despite being quite conspicuous in the last two IPL seasons, this time she grabbed all the lime lights with her own efforts. She bought Daniel Christian for her team, in lieu of $900,000. Many people speculated that this was perhaps not the best decision, as Daniel Christian is still a new player. Yet the young lady seems to know what exactly she wants and said that "He was worth the money", as he is a remarkable batsman, a good fast bowler and an enthusiastic fielder. No wonder, that this new all rounder has performed quite decently in the last three Twenty20 internationals, and all the domestic matches.
Some sources say, that the 2011 IPL bid, gave a good opportunity to the kids of several business tycoons to come into the limelight. Many of them perhaps got the first media attention in the most high profile sports event of the nation. Apart from Gayatri Reddy, the few other biz kids, who were present in the bids, were, Akash Ambani, the young son of Mukesh Ambani, who was bidding for Mumbai Indians. Sushanto Roy, who is the son of Subroto Roy, the owner of Sahara Groups, now bagged the ownership of the new IPL team Pune Warriors.
Filed under:
Cricket
,
IPL
,
Sports
,
World
Tags:
Akash Ambani
,
Bangalore
,
Daniel Christian
,
Deccan chargers
,
Deccan Chronicle
,
Gayatri Reddy
,
India
,
IPL
,
Karnataka
,
Mukesh Ambani
,
Mumbai indians
,
Pune Warriors
,
Subroto Roy
,
Sushanto Roy
,
T Venkattaram Reddy