Deion Sanders Elected For Pro Football Hall Of Fame
By Reema, Gaea News Network
Sunday, February 6, 2011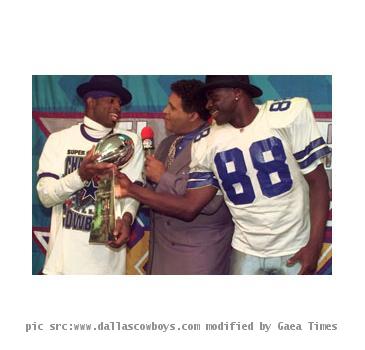 more images
DALLAS (GaeaTimes.com)- Deion Sanders was one of the seven NFL players who have been inducted in 2011 Pro Football Hall Of Fame. This recognition was well deserved as according to many sources, Deion Sanders had been in consistent demands during his active years as every team wanted him to play for them. In his NFL career of 15 years, he was recruited by five leading teams because of his spectacular and promising performances in the field.
Deion Sanders' achievement came up as a huge delight to all his friends and colleague, as for long, they have been wondering what made the Pro Football Hall Of Fame authority take so long to give him this esteemed recognition. Ronnie Lott, Hall of Fame defensive back recalls that Deion Sanders was one of those few footballers who played defense with an offensive approach. He explained that every time he would touch the ball, people knew that he was bound to score. Ray Horton, Steelers defensive backs coach said that Deion Sanders was the pioneer of man-to-man football game, who knew how to dominate half of the field. He still appreciates the legendary player's strategy of outrunning the ball. Mike Zimmer, ex-coach of former Dallas Cowboys, thinks that he has been one of the best players he has ever coached. He not only loved his remarkable competency, but also his genuine approach towards the team. According to the coach, Deion Sanders is extremely "conscientious" and loved helping others in the team.
However, the player himself confessed that what others think or thought about him, has never been an issue for him. All he wanted was to make a mark and an impact, and Charles Woodson, the veteran quarterback thinks that he has served the purpose. In his career, Deion Sanders has made 22 touchdown, 1,331 interception return yards and 53 interceptions.