Heisman Trophy QBs Sam Bradford, Tim Tebow, and Big 12 lead first round of NFL draft
By Barry Wilner, AP
Friday, April 23, 2010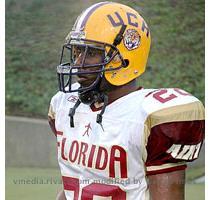 more images
Bradford, Tebow and the Big 12 lead NFL draft
NEW YORK — Heismans and hoopla accompanied Sam Bradford and Tim Tebow during their college careers. Now, the quarterbacks share something else heading into the NFL: first-round status in the draft.
For Bradford, it was a matter of whether he would go at the top of the first prime-time draft Thursday night. He did, to the St. Louis Rams.
For Tebow, it was a question of how deep in the proceedings his name would be called, with many predicting it would not happen until the second round. The Denver Broncos ended the intrigue at No. 25 after trading with Baltimore to get that spot.
Celebration, drama and a touch of mystery at Radio City Music Hall: The Rockettes would have loved this show.
"I want to be a great quarterback," said Tebow, who helped Florida win two national championships, earning the 2007 Heisman. "For the next few years, my mindset is going to be to repay (Denver coach Josh McDaniels) for what he did for me, believing in me. Just like it was when I was at Florida. My biggest joy was doing things for Coach (Urban) Meyer, winning championships, being able to help him."
At least Tebow goes to a team with some talent around him. Bradford, the 2008 Heisman winner who missed all but three games in 2009 after right shoulder surgery, is saddled with the Rams, who scored 175 points on the way to a 1-15 record last year.
He's not complaining.
"You have no idea how excited I am just to have the opportunity to come to St. Louis and play my NFL career there," Bradford said. "It's just a blessing and I can't wait to get there and get to work."
While Tebow figures to serve an apprenticeship in Denver as he adapts to a pro-style offense, Bradford almost certainly will start for the Rams. Their most accomplished quarterback is A.J. Feeley.
"There's no preconceived notion or game plan with Sam right now," coach Steve Spagnuolo said. "I think we've put ourselves in a situation that we can go either way. We'll do what's best for him and what's best for our team."
What was best for most teams in the first round was raiding the Big 12, with Oklahoma leading the way with four drafted players.
Starting with Bradford, five of the top six picks were from the Big 12 — three of them Sooners. In all, nine first-rounders came from the conference.
"That's pretty cool because I know the Big 12 has been getting a lot of slack lately," said Bradford. "People for some reason didn't think that we played much football in the Big 12 and sure didn't think we played much defense, so for two defensive tackles to go in the first three picks is a credit to the Big 12."
Bradford was immediately followed Thursday night by defensive tackle Ndamukong Suh of Nebraska, the AP Player of the Year; DT Gerald McCoy and OT Trent Williams, Bradford's teammates with the Sooners.
And what about the Sooners' run at the top of the festivities?
"It's insane isn't it?" McCoy said with a huge smile. "We can't play football in the Big 12, but the first four picks went out the Big 12? Mmmmm — three of 'em from Oklahoma, by the way."
Suh is considered the best defensive tackle prospect in more than a decade. He won the Lombardi, Bednarik and Nagurski trophies in 2009 and comes off a dominant Big 12 title game in which he had 12 tackles with 4½ sacks.
"He made it an easy pick for us," Lions coach Jim Schwartz said. "He's not just a one-year wonder. He's strong. He's good versus the run. He's good versus the pass. He's very intelligent."
McCoy should boost a Tampa defense that once was feared but flopped last season when it yielded 400 points. He displayed his Buccaneers jersey to the crowd and pumped his fist high in the air as "Pirates of the Caribbean" played on the loudspeakers.
The Big 12 bonanza kept rolling when Washington took Williams, an All-American, to fill a huge hole at tackle left by the retirement of Chris Samuels. Williams engulfed commissioner Roger Goodell in a hefty bear hug onstage.
Tennessee safety Eric Berry, also an All-American, went fifth to Kansas City, breaking the Big 12 stranglehold. Berry, noted for his versatility, also has the potential to play cornerback.
Then it was back to the Big 12 for Oklahoma State OT Russell Okung, who went to Seattle, where perennial Pro Bowl blocker Walter Jones might retire.
Florida cornerback Joe Haden was chosen by Cleveland, followed by Alabama inside linebacker Rolando McClain to Oakland. Both were All-Americans last season.
That also gave the Southeastern Conference three picks in the first eight.
Clemson running back C.J. Spiller went ninth to Buffalo, then the surprises and the swaps began.
Jacksonville took California DT Tyson Alualu, projected as a second-rounder by many. San Francisco moved up two spots, dealing for Denver's pick to get Rutgers OT Anthony Davis. San Diego, desperate for a running back after cutting LaDainian Tomlinson, jumped from 28th overall to 12th in a trade with Miami. The Chargers took Fresno State's Ryan Mathews, the nation's leading rusher at 150.7 yards per game.
"I always loved L.T.," Mathews said. "I've watched games here and there. They were basically my team growing up. I'm really excited."
The Broncos then sent the 13th overall choice they got from the 49ers to Philadelphia, which grabbed Michigan defensive end Brandon Graham.
That made four trades involving three consecutive picks.
Seattle added Texas safety Earl Thomas to Okung. Jason Pierre-Paul, who played just one season at South Florida after two years at a junior college, went to the Giants — a choice that generally drew cheers from the blue-clad New York fans in the crowd.
Georgia Tech DE Derrick Morgan was chosen by the Titans, the 49ers added Idaho guard Mike Iupati to Davis in a strong effort to solidify their offensive line, and Pittsburgh got center Maurkice Pouncey of Florida.
Missouri linebacker Sean Weatherspoon went to Atlanta, followed by Alabama cornerback Kareem Jackson to Houston and tight end Jermaine Gresham of — guess where — Oklahoma, who was selected by Cincinnati.
Super Bowl MVP Drew Brees announced the champion Saints' pick to finish off the showcase, Florida State cornerback Patrick Robinson. The swift round lasted 3 hours, 28 minutes.
The SEC was almost as popular as the Big 12 with seven players chosen, three from Florida. Tennessee, Oklahoma State, Alabama, California, Georgia Tech and Rutgers each had two players chosen.
Filed under:
Football
Tags:
Alabama
,
Athlete Retirement
,
Brandon graham
,
California
,
Cj Spiller
,
College Football
,
College Sports
,
Denver broncos
,
Events
,
Florida
,
Kareem jackson
,
Maurkice pouncey
,
Missouri
,
New York
,
Nfl
,
North America
,
Oklahoma
,
Patrick robinson
,
Professional Football
,
Rolando mcclain
,
Seattle
,
Sports
,
Sports Business
,
Sports Transactions
,
Tyson alualu
,
United States
,
Washington