Steve Nash: Eye Injured, But Victorious
By Naiwrita Sinha, Gaea News Network
Monday, May 10, 2010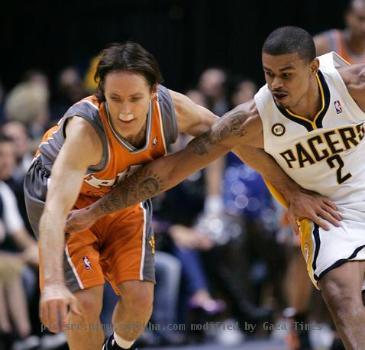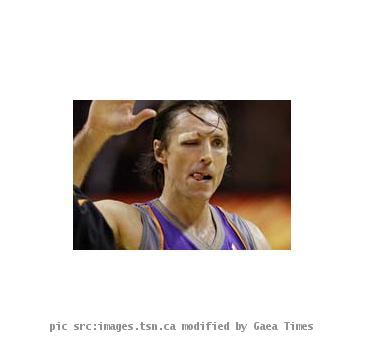 more images
SAN ANTONIO (GaeaTimes.com)- Steve Nash was the hero in the locker room of the Phoenix Suns after the game against the San Antonio Spurs on May 9 came to an end. It was not for no reason either, for he was the person almost single-handedly responsible for having led the Phoenix Suns to a spectacular victory against the Sam Antonio Spurs. He was being regarded as a hero all the more as he was he last person the team could have expected to lead them to a victory, given the circumstances. For Steve Nash was playing in the game with one eye swollen shut from a bloody injury.
The eye injury alone can be taken as a major hindrance to the skill of Steve Nash in the game, for in a game where focus mater a lot, he was being force to focus with only one eye. Yet, despite the Steve Nash eye injury, the player not only came back to the court after taking a short break to treat the injury, but also ended the game with 20 points and 8 assists. There can be no doubt that his contribution to the victory of the Phoenix Suns was huge.
The Steve Nash eye injury took place while the third quarter of the game was in progress. He knocked against Tim Duncan by chance, and the latter's elbow hit him hard just under his eyebrow, missing his eye by a fraction of an inch. Steve Nash had to return to the locker room, as his eye turned bloody and ugly, and came back to the court with six stitches under his eyebrow, one eye swollen shut.