Bryce Harper: Draft Numero Uno
By Ronee Roy, Gaea News Network
Tuesday, June 8, 2010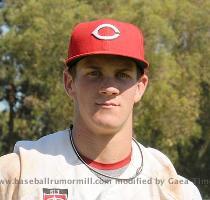 more images
SAN FRANCISCO (GaeaTimes.com)- The overall number one pick in the MLB Drafts this year Bryce Harper has become quite a sensation in very little time. The catcher for College of Southern Nevada was picked by the Washington Nationals. The 17 year old has been listed as an outfielder. The move is expected to benefit both the player and the team in the long run.
The Washington National officials who were excited to pick Bryce Harper and said that he will be developed as an outfielder as well. Bryce Harper was also the recipient of the American High school Player Of the Year in 2009 and has the longest home run (502 feet) in the Tropicana Field. Post selection, the Washington National officials showed their excitement about Bryce Harper's selection. GM Mike Rizzo said that the Washington Nationals officials have been monitoring Bryce Harper for a couple of years now and know the potential of the youngster quite well. He told the media that he is excited to welcome Bryce Harper into the Washington National's family. Director of Scouting, Kris Kline too echoed similar emotions about the selection. He added that he is the only selection in this year's draft to become a three hole hitter. He said that his left side hitting is always going to be an advantage. It was evident from his words that Bryce Harper would make the Major League sooner than the fans expect him to.
The trend in this year's MLB Drafts has been the selection of the high-school students. Though the players aren't expected to play the majors in at least three years after the selection, the exposure and the opportunity before them becomes huge. Bryce Harper therefore has the best possible platform to make it big in the MLB.